TIPS AND EXPERIENCES FROM THE ACA TEAM
ACA AS AN EMPLOYER
03/08/2023 • ACA Group Team
Life at ACA: "The people make the difference"
What is it like to work at ACA Group? No one better than Katrien Gistelinck to answer that question. She came in in 2006 as a business analyst and project manager. Today she is team leader of the custom development team. During her seventeen-year ACA career, she saw the company grow from 35 employees to more than 250. Wondering why Katrien chose ACA Group at the time and why she still enjoys working there today? She likes to tell it herself in this interview.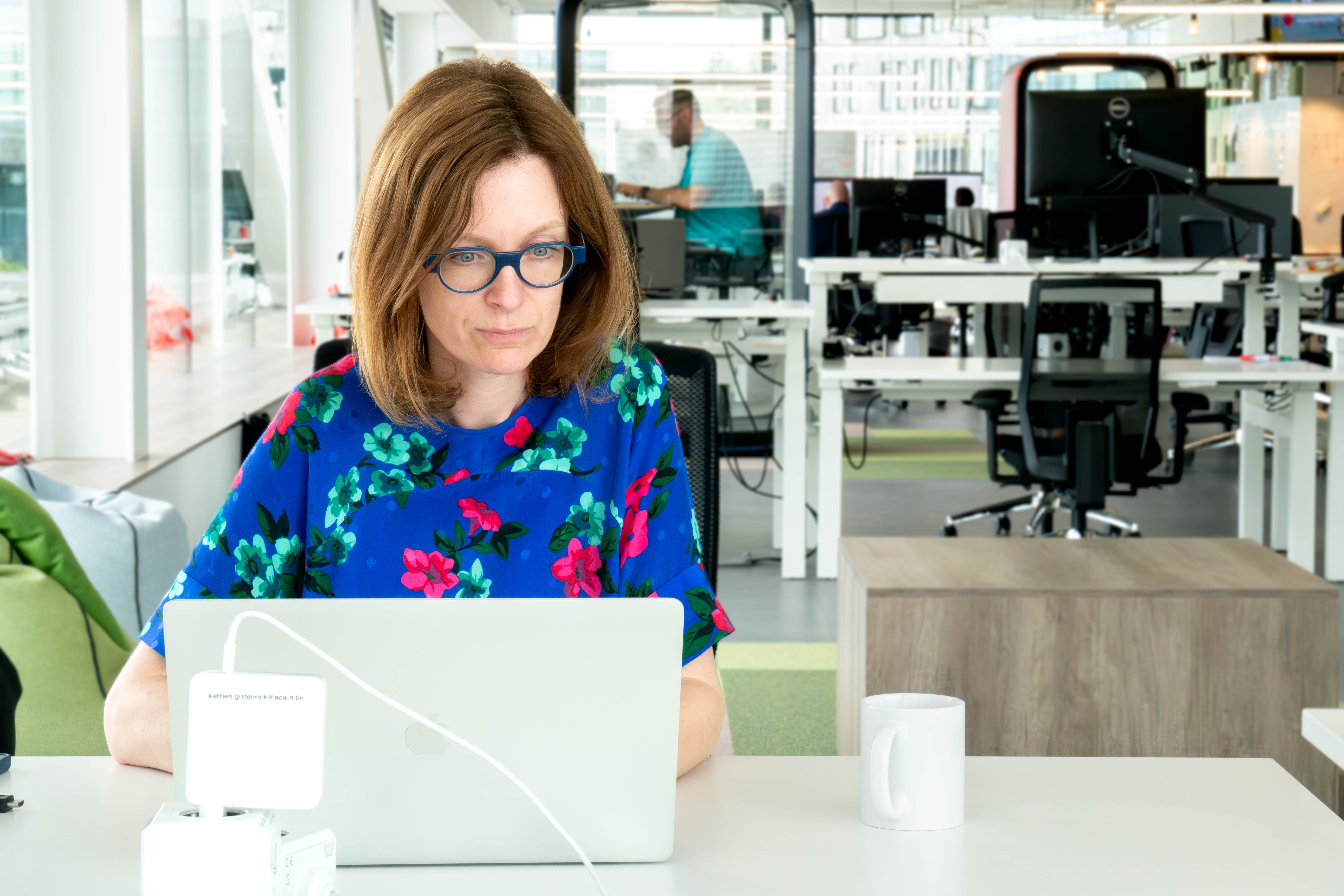 Hi Katrien, we can safely say that you are one of the seniors at ACA Group. Was it your first job at the time?
"No, actually not. I started working for ACA in July 2006. I will not forget that, because my son was just born then. Before that I had already worked for a few other software companies that have also been customers of ACA Group for a long time."
In what role did you start at ACA Group?

"I started here in a dual role as a business analyst and project manager for custom made software projects. They are both very exciting roles. As an analyst, you sit down with the customer to map out all the challenges and explore how they can be solved and molded into a tailor-made business solution. An important task is to translate this into user stories. As an analyst, you are the bridge between the customer and the development team.
As a project manager, it is your job to steer the project in the right direction. You keep a good overview of the budgets, the timing, the capacity and the daily activities. In addition, you set up metrics to monitor everything closely and take timely action in case of possible obstacles. Risk management is an important task for every project manager, just like communication with the customer."

What attracted you to ACA Group at the time?
"In my previous consultancy jobs, I was placed at a client for a long time, sometimes several years. As a result, I had little contact with my direct colleagues. That is completely different at ACA Group. From day one I had a lot of contact and support from my ACA colleagues. You mainly work here in an ACA project team, whether or not in collaboration with customer specialists, but at the same time you can still count on the support of an internal community of ACA colleagues. That creates a real bond. Another plus is that you can work here in one of the innovative ACA offices or from home. That is also very nice."
What else characterizes ACA Group?
"First and foremost the people. Every ACA employee has great expertise and passion. Everyone strives for a high-quality delivery according to the predetermined timings and budgets. We all put our shoulders under it. In my previous jobs I regularly saw software projects go wrong and be stopped, but at ACA Group we always strive to deliver according to the expectations of the customer.
Moreover, you get a lot of responsibility and career opportunities here. You really are in charge of your career. You can not only grow in your position here, but also to other positions if you wish. Everything is possible here, it's up to you to make it happen."
How about you, are you still working as an analyst and project manager today?
"Yes, as a matter of fact I do, but I am also part of the leadership team of the business unit that develops custom software for our customers. We used to work mainly in Java, but now we also use Python, .NET and Low-Code. Within the business unit I mainly focus on the demand capacity aspect. This means that I look at how we want to grow further, which profiles we need by when and who is the best match for specific projects. It also involves a lot of guidance to teams and people."
What does an average working week look like for you?
I provide a lot of operational support to the various custom development teams. I also closely monitor the recruitment and help with the interviewing of candidates. The realization of the strategic projects and goals of our department also regularly require my attention.
In addition, I work as a project manager for IDEWE projects. And that involves a lot: the daily follow-up of development activities, communication with the customer, planning, risk management, and so on."
The cooperation between IDEWE and ACA Group goes back a long time. What have you already achieved?

"A lot! I believe we have been working for IDEWE for thirteen years. In that time we have realized many different projects. At the time, we started with a project for the development of a document management system based on Alfresco. That system keeps track of all digital medical records of employees and is still actively used. It contains millions of documents.
Today we work for IDEWE with a considerable budget. The team has grown from two developers and a project manager to a permanent team of 16 people, where we scale up when needed. We are constantly working on new solutions, for example to make the work of IDEWE's internal employees easier, to identify the risks at employers, and to support employees. In the past, for example, we developed the Health Empower app, which guides employees with chronic pain to better deal with their pain during work. During the corona epidemic, we also provided a platform to support the vaccination campaigns. Users can easily request and follow up on a vaccination, whereby invoicing is also arranged automatically. Today, this application is mainly used for flu vaccines, but it can also be used for planning and monitoring other vaccinations."
What makes the collaboration with IDEWE so successful?
"It's a real partnership. IDEWE has its own team of analysts and developers. With the ACA employees, we are a full part of their IT department. We constantly align things with each other in terms of analysis, architecture and technical solutions. Together we look at how we can best solve the challenges."
When you look back on those 17 years at ACA, what are you most proud of?
"I once worked for Isabel for four years. I started there as an analyst for various projects. At one point I was asked to help with the management and further development of their software factory. I also had to coach and guide their internal people. This is how the dual role that I perform today at ACA Group came about."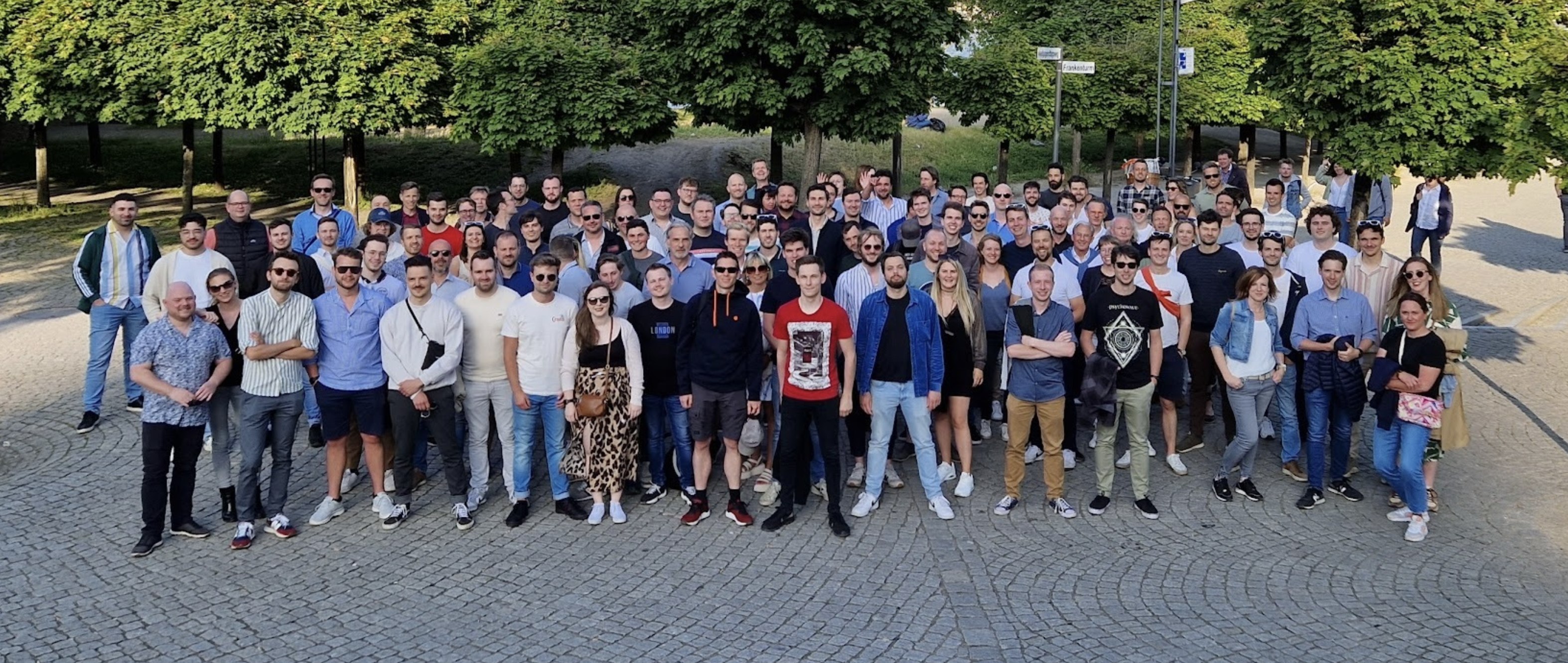 How do you look back on your career at ACA Group today?
"I have seen ACA change a lot. When I started here, 35 people worked here, now we have more than 250. The structure has changed a lot, but the basic values ​​are still the same: passion, craftsmanship, quality, drive, teamwork, innovation. That culture of achieving the very best together already appealed to me at the time and it still does today. It is the ideal habitat for people with enthusiasm and ambition."
🌟 Do you also want to be part of our passionate team? Then be sure to check out our vacancies!