Get inspired during our AWS Innovation Event - Fall 2021!
Conference - Innovation - Hybrid event
| | |
| --- | --- |
| Date: | 18/11/2021 |
| Time: | 15:30 |
| Location: | |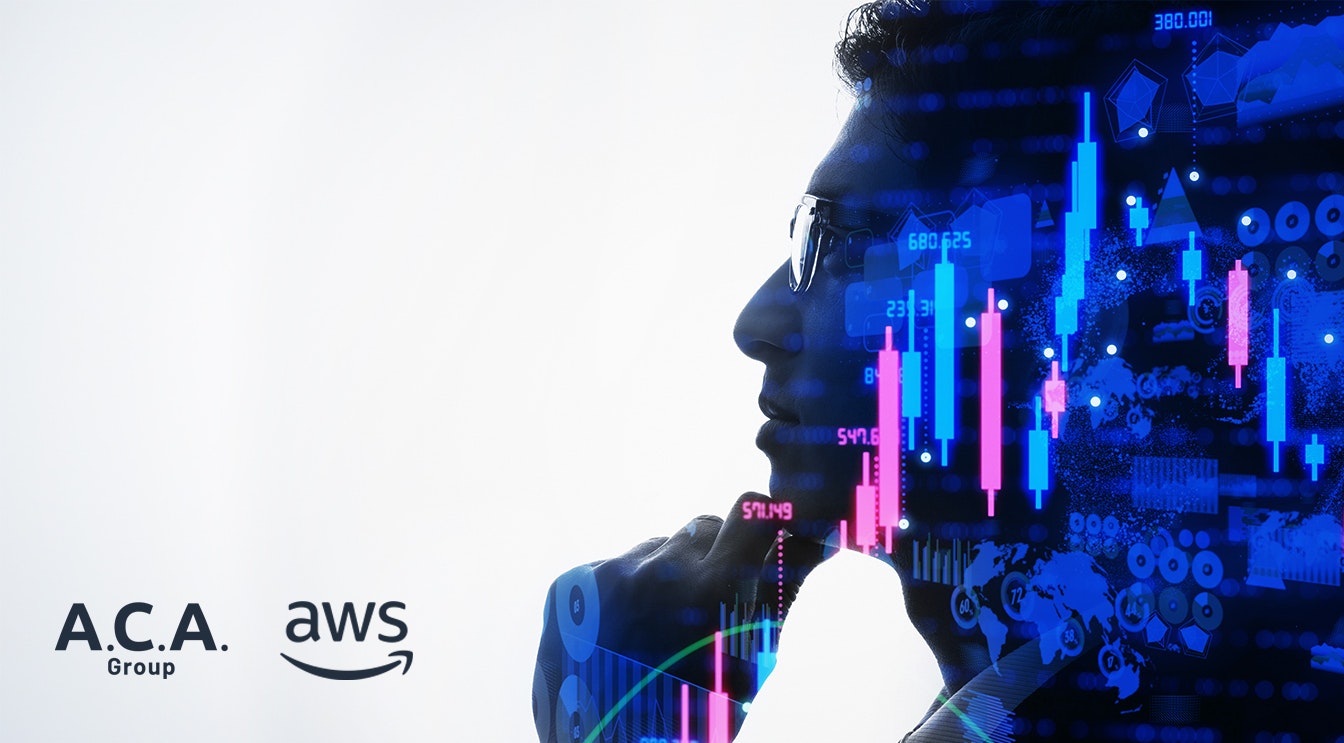 About the event
The moment of digital transformation is now and it is also coming closer for your company. Therefore, make no mistake and be prepared.
Let Cloud-native, Realtime applications and Legacy transformation inspire you during our free AWS Innovation Event! 💡
AWS Innovation Event
Together with AWS, the experts from our Innovation Lab organize an inspiring event in our Hasselt office where we immerse you in the wonderful world of AWS' innovative services, cloud-native, real-time applications and legacy modernization.
During the event, it's possible to follow 2 tracks with different topics and speakers:
You can find the schedule here!
Why register?
Get to know the different AWS innovation services and how ACA can help you as a partner.


Discover the benefits of innovative services for your business.


Follow powerful and instructive sessions and ask live questions to our experts.


After the event there will be a nice dinner and the opportunity to network.
Hybrid event
Yes, you read that right! This is a hybrid event, i.e. we would like to welcome you in our office in Hasselt, but if that doesn't work, you can also attend remotely. All sessions (business & tech track) are streamed live.
Yes, you read that right! This is a hybrid event, which means that we'd like to welcome you in our office in Hasselt. We will to provide delicious food & drinks and end the inspiring evening with a dinner and networking opportunities.
Are you (unfortunately) physically unable to attend? Then it's possible to follow the talks via livestream.
Schedule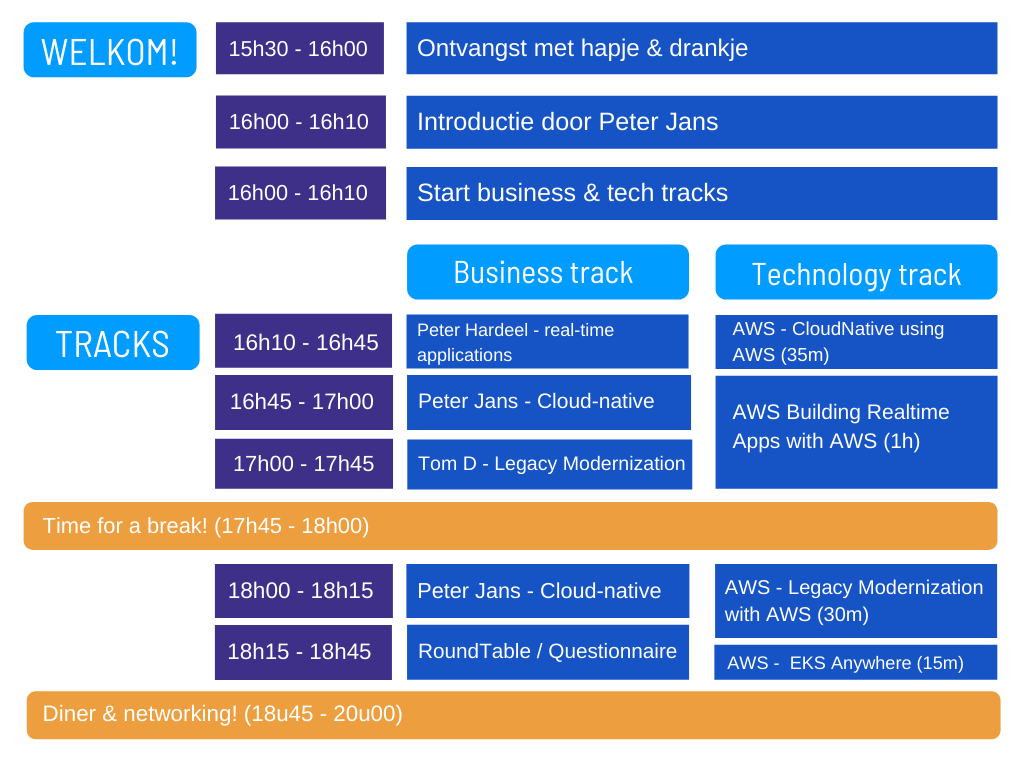 Tracks & Talks
It is possible to choose between 2 different tracks:

This track is in Dutch, and is interesting for those who work more at a conceptual, business or strategic level within their organization. During this track we want to provide high level insights into some innovative topics without focusing too much on specific tools, services and techniques.
1. The real world needs realtime data - Peter Hardeel
IoT transmits data in realtime, but today's applications don't respond in realtime. Realtime platforms enable smart applications that bring together IoT, digital twins and AI in new and exciting ways to turn streaming data into "smart business". These new digital applications detect, analyze and act at the speed of the real world. During this session Peter analyzes data at the source and explains how this ensures high productivity for your organization.
2. Where will Cloud-native take us? - Peter Jans
A short session in which Peter Jans will tell you more about the Cloud-native landscape, the challenges that still exist and where this will lead us to in the future.
3. Legacy Modernization as a catalyst for your Digital Transformation - Tom De Wolf
Typically, companies have made a lot of investment in an existing application landscape. However, the business needs have changed and are no longer optimally supported by these applications. Sometimes change is very radically imposed from outside (eg corona crisis) and a company needs the opportunity to reinvent itself. The existing application landscape has become legacy and makes it difficult to innovate. That is why Tom explains during this session how we are looking for an innovative approach to modernize this legacy, which has many benefits for your business as well.
4. Why has Kubernetes become essential in a modern IT landscape? - Peter Jans
A short, but really educational session in which Peter tells you more about Kubernetes and its importance in a modern IT landscape.
Track 2:

This track is in English, and is interesting for those who devise and develop solutions at a more technical level within their organization. In the technology track we will provide detailed insights into which services are available within the domains to work out solutions, enhanced with hands-on demo's.
Talk 1: Cloud-native using AWS
More information about this talk will follow soon.
Talk 2:
Building Realtime Apps with AWS
In this session you will discover all the services that AWS offers to develop realtime apps, with a focus on simple (low/no-code), streaming, iot and event driven approach.

You will learn more about tech & tools such as AWS IoT, Honeycode, Amplify, Lambda, Elasticache, Kinesis, ...
Talk 3: Legacy Modernization using AWS
How can AWS offer a Cloud-native platform with single pane of glass?
During this technical session you will learn more about: Kubernetes, Service mesh, Cloud-native CI/CD, migration tools towards containers, observability through racing, toplogy graph of service interactions, ...
Hosts and guest speakers

Peter Jans
Cloud/Innovation Architect & Business Manager - ACA Group
Peter has over 20 years of experience as a developer, agile lead, architect and manager for numerous projects and clients. Peter currently specializes in providing Cloud, DevOps and Cloud-Native solutions for various sectors. His areas of expertise include determining and translating business requirements into strategic solutions and building architectures for enterprise systems based on the Java open source, cloud-native and AWS.


Peter Hardeel
Real-time expert / Business Analyst - ACA Group
Since April 2016, Peter works as a Real-Time expert/Business Analyst at ACA Group, where he helps customers to build, deploy and manage real-time, event-driven applications that combine real-world data and real-time events. Agile techniques like Lean, Kanban, Scrum and requirements gathering tools like Event Storming and Storymapping have no secrets.
Besides the day-to-day job, Peter is a guest professor teaching Java Programming and Analysis at Thomas More.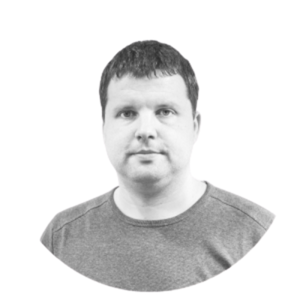 Tom De Wolf
Innovation Engineer & Senior Architect- ACA Group
Tom has over 14 years of experience as a developer, technical lead and architect in software development for numerous projects and clients. He currently specializes in modernizing IT landscapes and designing cloud-native architectures for different purposes (application development, data platforms, IoT, ...). Skills include designing goal-oriented architectures, design and implementation of enterprise systems.
The names of the AWS speakers will be announced soon.
Still have some questions or need more information?
Don't hesitate to contact Peter!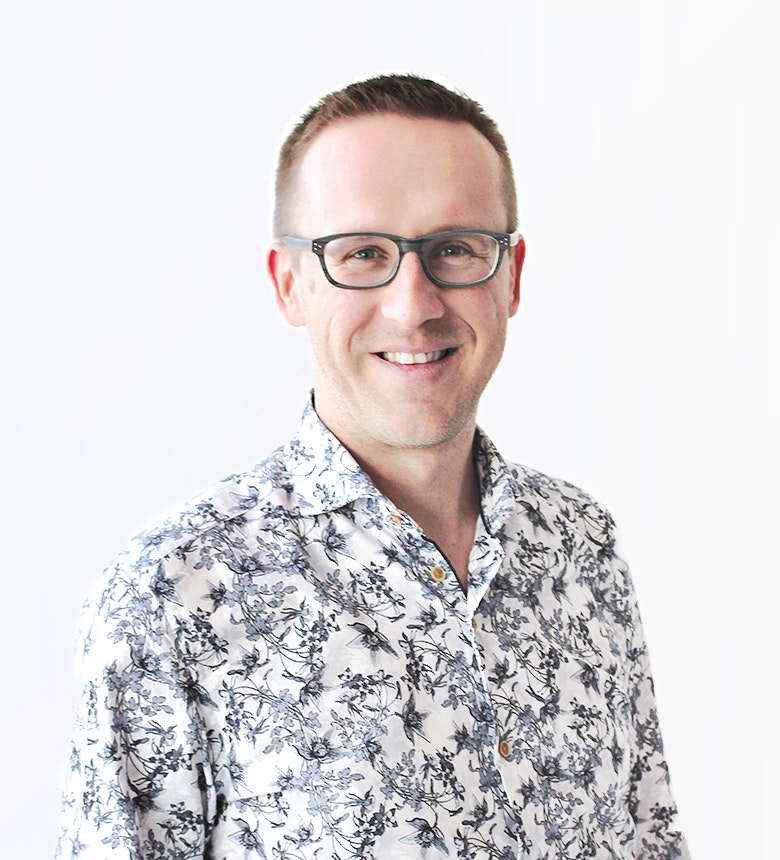 Peter Jans
Cloud and Innovation Architect & Business Unit Manager