SOFTWARE DEVELOPMENT
LOW CODE
CUSTOM SOFTWARE
12/07/2023 • Gregory Van Dorpe
What is Low-Code and why should you care?
In this blog, we dive deeper into 'Low-Code' as a concept and how to choose the best Low-Code platform for your business.
Low-Code as a concept
Low-Code, visual development application modelling, citizen development, … If you are a developer, these terms will definitely ring a bell.
But what exactly is Low-Code, why should it matter to you, and who benefits from it? The answer is simple: "It depends".
Taking a step back, Low-Code is a concept revolving around visual development or modeling and widely supported by automation. This definition makes it applicable to many different areas in IT and more.
How to choose the best Low-Code platform?
Just having a quick glimpse at the Forrest and Gartner reports will result in more than 300 different Low-Code platforms and products.
Are these all equivalent? Obviously not.
Are they all meant for Application Development? Again, no.
So how can you determine what Low-Code platform, product or solution might be relevant to you and your customers?
Focusing on the leaders and well-known names, we can easily recognise some patterns to categorise them (see the example below).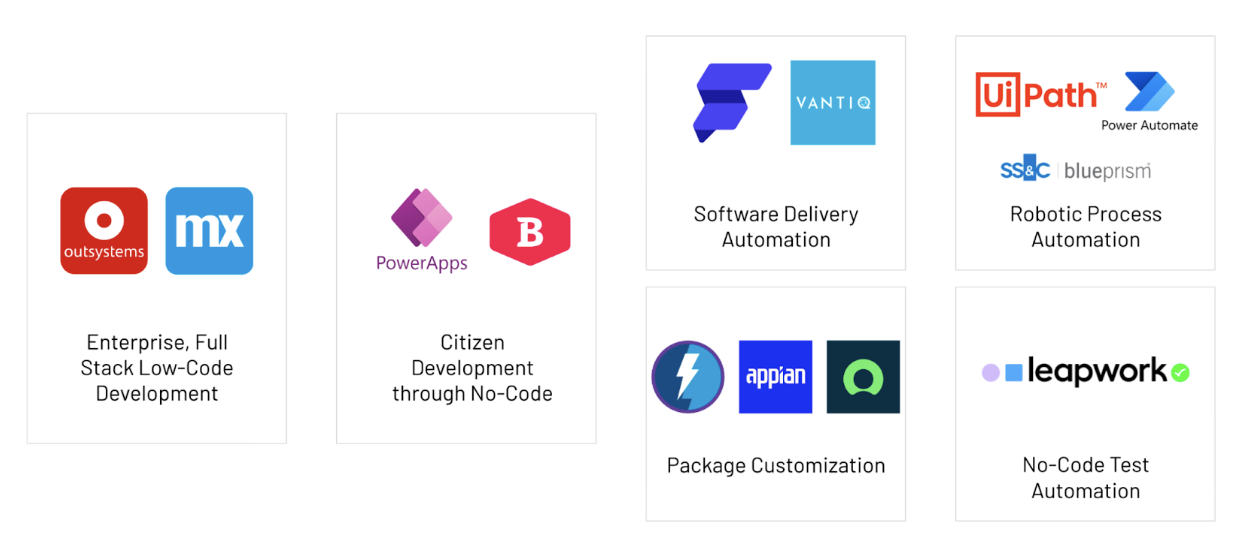 Low-Code solutions by category
➤ Robotic Process Automation (RPA)
Using Low-Code and visual development/modeling for process creation, integrations and automation.
➤ Custom software delivery automation
Empowering traditional development frameworks with Low-Code accelerators to generate parts of applications or starting points.
➤ Package customisation
Most of the leading package vendors are investing in Low-Code solutions within their own platform to facilitate customisations.
➤ Test automation
Everyone knows Selenium, a very powerful tool to create and maintain test scripts. Some platforms are even applying a no-code approach to model the test cases and have the Selenium scripts generated, executed and maintained without any need for coding.
➤ Citizen development for team and departmental apps
Tired of working with Excel or Google Sheets? Looking for an easy to use and to learn solution to build small and simple applications for your team or department? Then Citizen Development platforms are the solution for you. However, it is not suitable for enterprise applications. So use it for what it's intended. After all, you don't want your gardener assembling your new electric car, do you?
➤ Enterprise full-stack development platforms
A Low-Code enterprise development platform provides a Graphical User Interface for programming and generates the underlying code automatically, reducing hand-coding efforts for developers. These tools not only help with quick front-end development, but also with logic, back-end, integrations and even lifecycle management.
In with Low-Code development, out with traditional development?
Can Low-Code fully replace traditional development such as .Net or Java? Of course not!
But Low-Code development platforms can definitely help deliver more projects in less time with the same amount of people. It enables organisations to react faster to opportunities with a shorter time to market.
Moreover, it can help make a valid business case for projects that have been waiting in the backlog due to "other priorities" and teams mainly focusing on business critical systems in your company.
Why we use Low-Code at ACA Group
As an IT-consulting company and integrator, we are focused on delivering custom software to cover the specific needs of our customers. Low-Code offers us a powerful tool to do so. And not only for the simple apps! With the right Low-Code platform you can even modernise your legacy and build customer-facing web and mobile apps integrated with your ERP, CRM, IAM and broad existing landscape.
It can also help you rationalise and simplify your IT landscape and bring back your company's tools under IT Governance without having to tell the business "sorry we have other priorities".
Our strategic choice: OutSystems
ACA chose to make a strategic partnership with OutSystems, a leading and by far the most productive, versatile and stable Low-Code platform on the market for enterprise full-stack development.
Our team of experts has been working with OutSystems since 2016 and has also delivered projects with other leading platforms. We are keeping up to date with the latest announcements, new functionalities and major differences between the 3 leading Low-Code platforms for general application development. That way we can advise our customers on the best fit for their needs.
OutSystems Developer Cloud: best fit for full-stack development
OutSystems Developer Cloud is the leading PaaS cloud native high performance Low-Code platform for full-stack development and integrations. It covers the widest set of use cases. From internal apps, to B2B- and B2C customer-facing web and mobile applications, processes and even core systems.
Using it for legacy modernisation and innovation projects is a big accelerator for your digital transformation.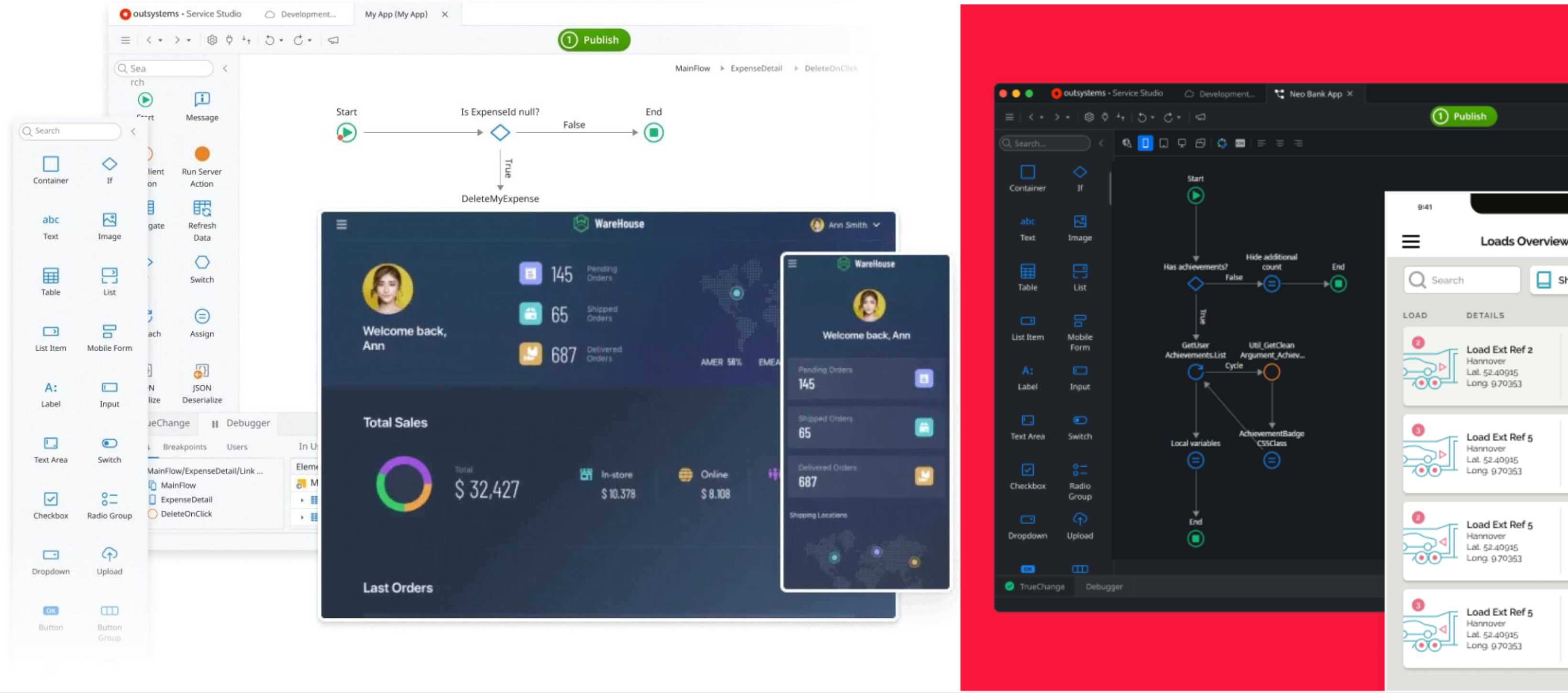 The benefits of OutSystems Developer Cloud
What does OutSystems Developer Cloud bring to companies and the developers and software engineers using it to deliver the projects?
3-4x times faster delivery
One unified way of developing web, mobile, front-end, back-end and integrations
Easy to learn for software engineers and web developers
AI-assisted development and built-in generative AI
No need for additional development tools (GitHub, Eclipse, Visual Studio, …)
Development teams focused on delivering value
Secure out of the box
A lot less maintenance
No infrastructure to manage
Built-in lifecycle management
Auto-scaling
All this while still having the architecture and best practices in your hands.
Want to get started with Low-Code?