INNOVATION
REAL-TIME
18/07/2022 • Peter Hardeel
What does it mean to be a 'real-time' enterprise?
Nowadays, there is constant talk about the importance of a 'real-time enterprise' that can immediately notice and respond to any event or request. So, what does it mean to be 'real-time'?
Real-time technology is crucial for organizations because real-time decision-making is a competitive differentiator in today's fast-paced world. A real-time application requires the ability to ingest, structure, analyze and act on data in real-time. The emphasis lies on providing insights and decision-making whenever an event occurs, rather than days or even weeks afterwards.
Today's business systems are primarily capable of providing what a real-time application promises: collecting data in real-time. Another criterion, which is analyzing this data and gaining valuable insight in real-time, is a whole other challenge. It is also often confused with the former, diverting attention from what should be the main considerations when planning a real-time application:
What are the decisions your business needs to make when receiving data?
What slows down your business in making those decisions?
How will your business benefit from this ability to make decisions?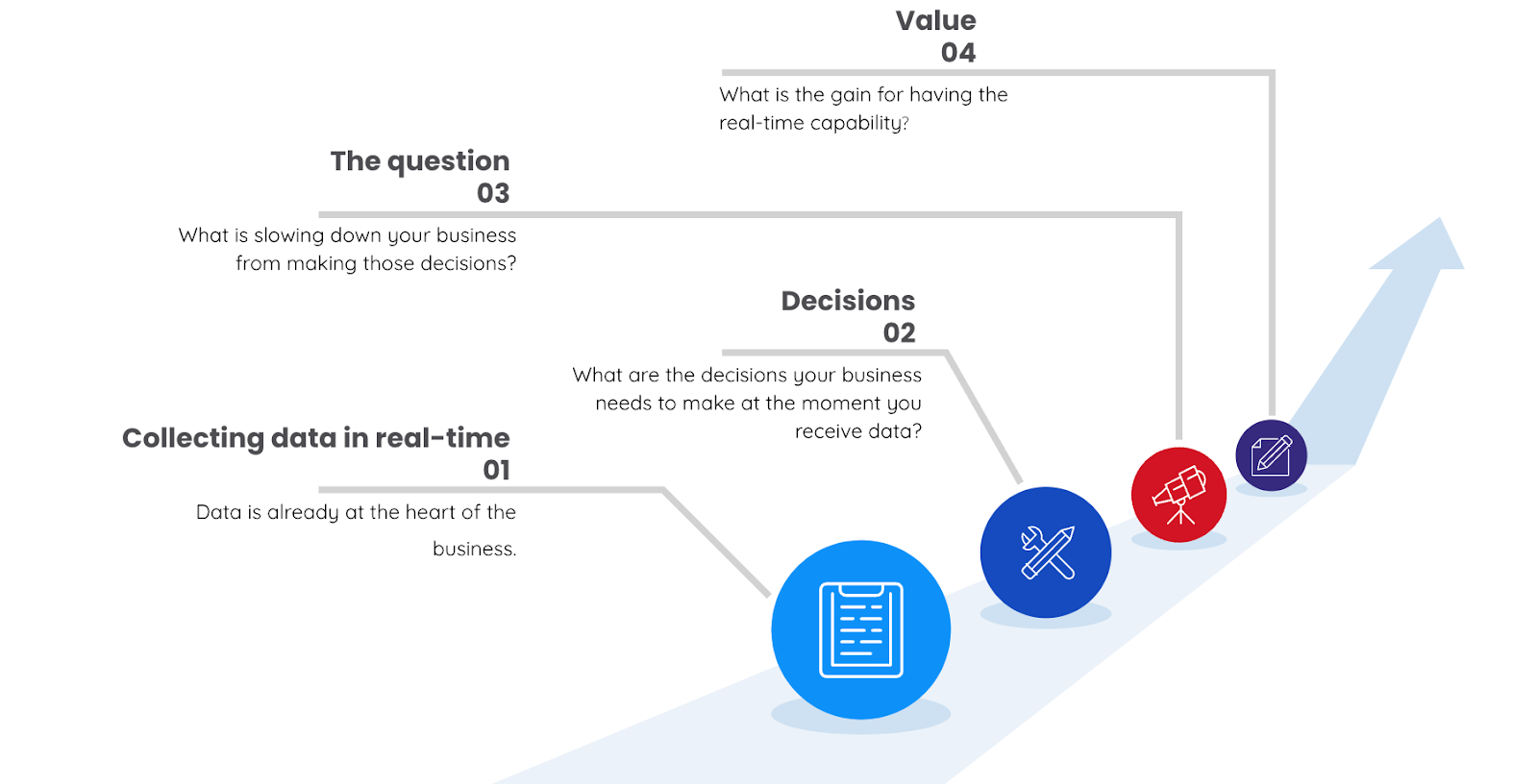 Enterprises must first be able to answer these considerations and make them clear to the rest of the business before the successful implementation of a real-time application can be guaranteed.
Goals of real-time
The sole purpose of a real-time application is to make decisions in real-time. As these applications will control a much larger part of an enterprise, close cooperation with humans will offer significant advantages and become a requirement in the future. Software will automate deterministic functions and standardized activities. At the same time, humans will add experience, intuition, and values to:
assure the most appropriate actions are taken,
intervene when they are not,
and take charge when it is not clear enough what to do.
By interactions, we mean communication that goes far beyond text, email or chat systems. We are talking about truly sophisticated collaborative relationships in which a software application and a human being communicate and are each aware of the context of what is happening, how a situation changes over time, and what choices or recommendations are likely to produce the best results.
The 3 steps to become a real-time enterprise
Now that we've established what a real-time enterprise is: how do you become one? There are 3 key steps to take into account:
Put business needs first: adopt the mindset to create and change both business and operational processes with a real-time-first attitude. For example: allowing certain automatic decisions depending on what data streams are feeding your applications.
Speaking of data… get it right! Moving to real-time also requires robust data management that supports both emerging streaming data and traditional data sources for real-time data integration.
Look to the edge: as we've already established, going to real-time also requires implementing real-time analytics where the data originates and delivering analytics. This requires autonomous support to perform analytics closer to the data source without connecting to the cloud, creating more flexible and powerful deployments. With edge computing, organizations can ingest, enrich and analyze data locally, run machine learning models on cleansed datasets and deliver enhanced predictive capabilities.
The velocity and volume of data arriving in real-time require in-memory stream analytics and complex event processing. It requires a shift from a traditional 3-tier database-centric architecture (with presentation, application and data tiers) to a modern event-driven architecture method of application development.
Conclusion
Although we've only scratched the surface, we hope this article has shown you how exciting and valuable real-time applications can be. If you want to learn more or explore ways to implement these technologies into your business, get in touch. We would be happy to help you transform into a real-time enterprise!