EVENT
VOXXED DAYS BRUSSELS 2023
Why all developers must attend Voxxed Days Brussels
Voxxed Days, a one day spin-off of Devoxx, is coming to Brussels on the 23th of May 2023. For developers, architects and everyone tech-savvy, it is the ultimate opportunity to network, hack, and learn from each other in a unique and inspiring atmosphere.
In this interview, Stephan Janssen (founder of Devoxx) and Stijn Van den Enden (CIO of ACA Group) tell us what to expect and why every developer should attend Voxxed Days Brussels.
Interview with Stephan and Stijn: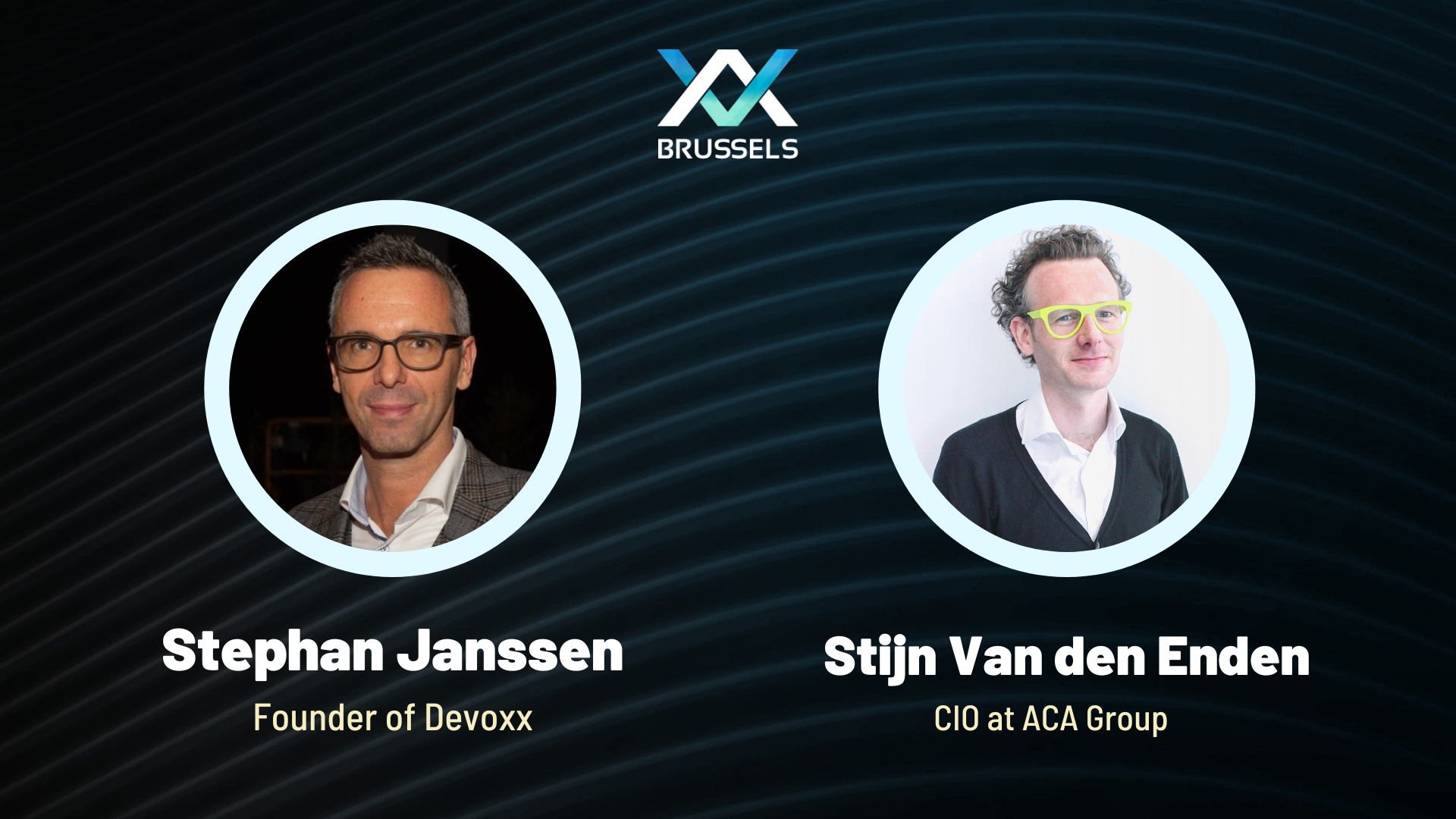 What is Voxxed Days exactly and how does it relate to Devoxx?
Stephan: Devoxx is a well known series of community-driven developer conferences that provide a platform for developers to learn about the latest trends, technologies, and best practices in software development. Voxxed Days are in fact a smaller version of Devoxx, but with the same focus on high quality keynote presentations, technical sessions, hands-on labs, inspiration, and networking opportunities. The Voxxed Days is the most valuable one-day community event for developers, by developers.
Why is ACA Group so excited to organise Voxxed Days Brussels?
Stijn: ACA Group is a longstanding member and sponsor of Devoxx. With Voxxed Days Brussels, we want to offer an equally great event for the developer community in Brussels. It is a good alternative for the larger Devoxx event in Antwerp, which is generally sold out in a couple of minutes. Voxxed Days Brussels is ideal for sharing insights and networking with colleagues. We are convinced it will give a strong boost to the development community in Brussels. And that's what we do it for.
Why is Voxxed Days Brussels a must-attend event for any developer?
Stephan: Since the corona pandemic, a lot of developers work mostly from home. Voxxed Days Brussels is a good way to leave your bubble and meet up with other developers. For dev teams that are looking for an inspiring team building activity, it is the best choice. It is extremely powerful to immerse yourself a full day in the newest technologies in your branche. Nowhere else you will find the same concentration of eye-opening talks, interesting speakers, innovative companies and fellow developers to interact with.
Stijn: Well said Stephan! I would also like to add that the venue for the Voxxed Days, the EGG in Brussels, is the perfect place for an event like this. It really supports the community aspect of Voxxed Days.

Which keynote or talk of Voxxed Days Brussels are you most looking forward to?
Stijn: With more than twenty super interesting talks and keynotes, divided over six tracks, it is hard to pick just one. However, I certainly do not want to miss the keynote of Sander Hoogendoorn. He will tell an enlightening personal story about his life as a lifelong developer and the path toward writing beautiful code.
Stephan: Yes, that is definitely a must-see. He brought the same keynote during Voxxed Days Bucharest and all attendees were really overwhelmed by his inspiring story.
Any last tips for the readers?
Stephan: I always encourage participants to attend sessions they know nothing about. That's how you learn the most.
Stijn: I advise all developers to buy their tickets for Voxxed Days Brussels now. With a low ticket price of 195 euro, food and drinks included, and keeping in mind the quality of the program, it is the best value for money that you will ever get.
Want more information on Voxxed Days Brussels (or buy your ticket)?