END-TO-END PROJECTS
MOBILE DEVELOPMENT
RBFA, PwC and ACA Group launch brand new RBFA-app!
The Royal Belgian Football Association (RBFA), PWC and ACA Group launched the new RBFA-app together. This new mobile app is the digital portal for every user, fan or amateur football player. You can find useful information, exclusive content, statistics and tickets in this brand new app.
New functionalities
Our own mobile team is responsible for the development and design of this mobile app. Together with RBFA and PWC, we already gave the previous app a new design last year. With the launch of the new RBFA app, we are taking the next big step.
The new app offers many new functionalities, including the option to follow all press conferences live, get exclusive images from behind the scenes and (re)view interviews with players.
In addition, users can buy tickets for all matches of the Red Devils, the Red Flames and other national teams in one go. It is now possible to save these purchased tickets in the app, so printing tickets is no longer necessary. As the cherry on top, everyone can follow their favorite amateur or youth player closely via this new app.
All the news that fans were able to follow through the RBFA's social media channels can now also be found in the app. For example, players are interviewed and followed before, during and after their matches, but also during their internships and the preparations of major tournaments.
Thanks to numerous new functionalities, a clean design and improved user-friendliness, we can already consider the first launch of the new mobile app a success.
More to come!
However, this launch is just the tip of the iceberg. RBFA wants to use the app to involve fans even more in the matches via polls, quizzes and forecasts. We are already looking forward to a further successful collaboration to further expand and improve the digital journey of all users of the new app!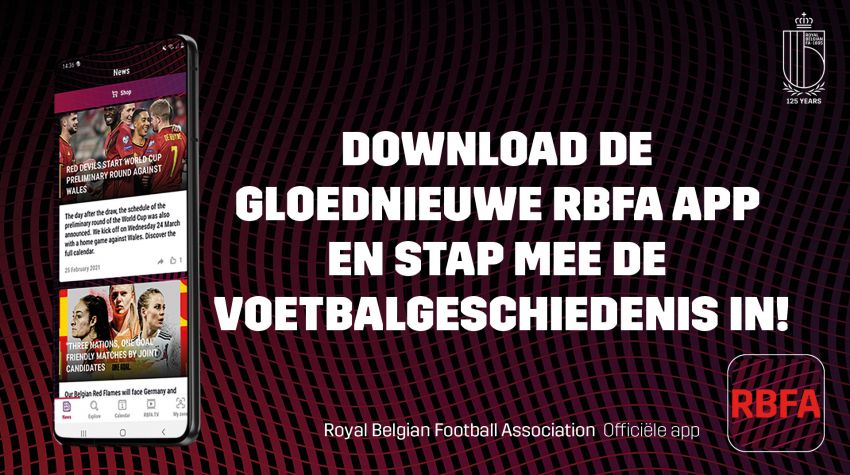 You can download the new RBFA-app on www.rbfa.be/app, the Apple App Store or Google Play Store.