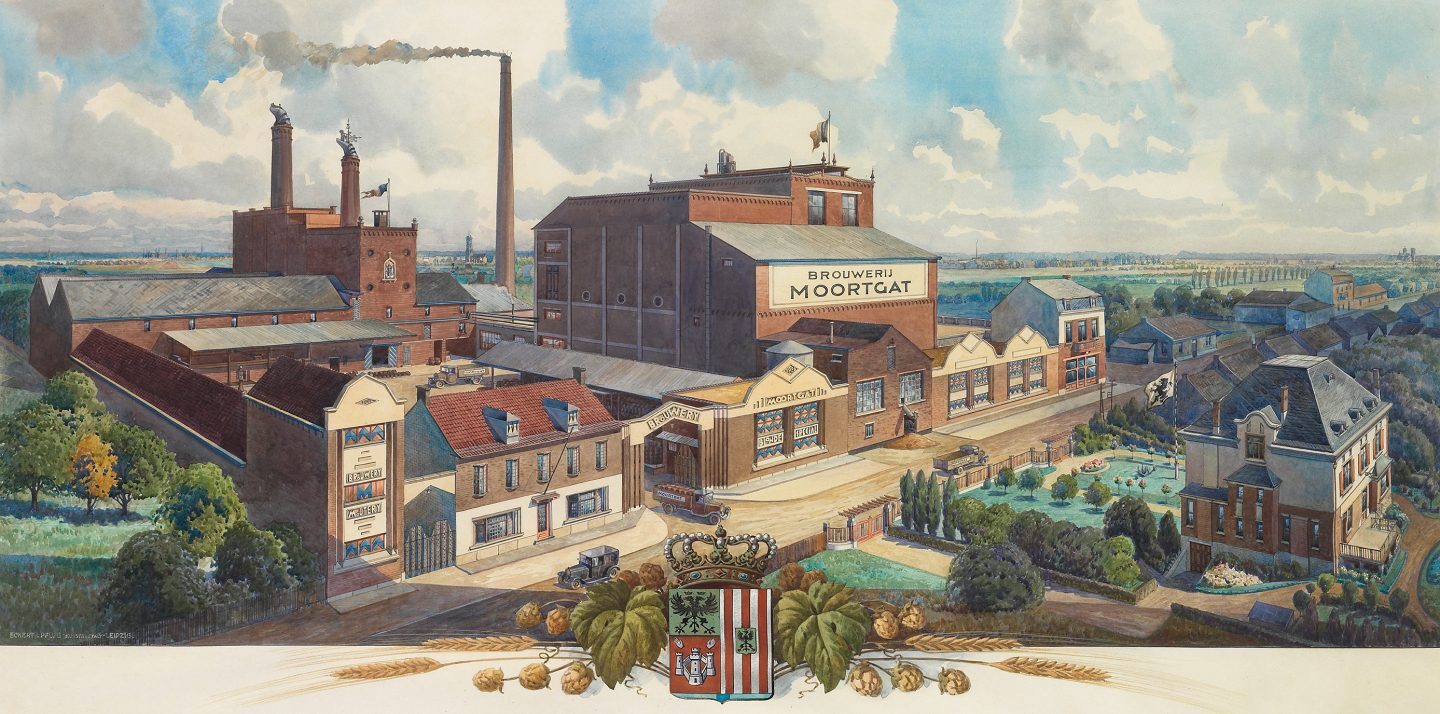 Duvel Moortgat is an independent group of authentic craft breweries. Duvel Moortgat not only has breweries in Belgium, but also in the Netherlands, Italy, the United States and China. In total, these breweries produced 2.3 hl in 2022. Not only Duvel, but also La Chouffe, De Koninck, Maredsous and Liefmans are part of the group's range.
The challenge: quickly and automatically detect damaged pallets
Beer has come a long way when customers put the bottles in their shopping cart. For transport to the shops, the beer is stacked in bins on pallets. To transport the beer safely and undamaged to the shops, the bottles are stacked on pallets in automated warehouses. It is crucial that the pallets are in perfect condition to ensure the safety of the transport and to maintain the quality of the beer.
Damaged pallets, caused by broken or cracked boards, protruding nails or missing components, can compromise the efficiency and safety of the production line. Duvel Moortgat has therefore implemented a mechanical system that removes damaged pallets from circulation. Despite the implementation of this system, defective pallets continue to flow to the next steps in the production process. This not only causes unnecessary costs due to loss or damage to the end product, but also has a negative impact on the efficiency and safety of the production line.
To take care of these problems, the brewery looked for a better and innovative solution and quickly discovered ACA to possibly help them.
Our solution: AI model based on Computer Vision that detects damaged pallets
We strive to always offer our customers a sustainable and innovative solution. Our AI proof-of-concept based on Computer Vision offers a promising result for Duvel Moortgat.
This concept uses cameras to analyze visual images of the pallets and validate whether they still meet the quality requirements. Based on the outcome, damaged pallets are automatically removed so that they cannot cause any damage in the further process. The AI system not only offers a more efficient way of quality control, but also contributes to the company's future-oriented and innovative approach.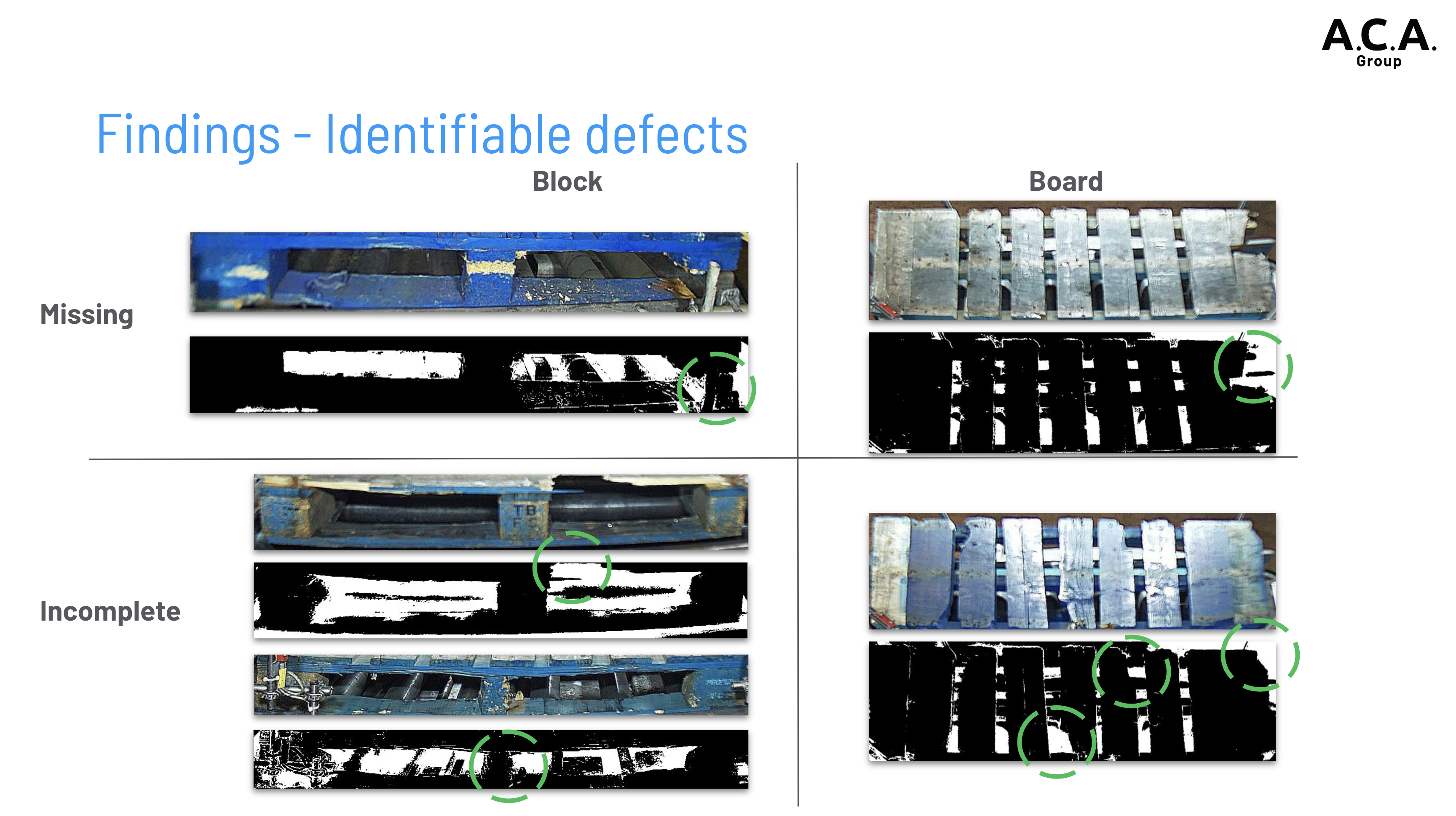 Above are some examples of defects on pallets that the system can automatically detect
Better quality checks thanks to analytical AI model
When entering the warehouse, the pallets at Duvel Moortgat are usually loaded with empties, followed by a mechanical inspection. To guarantee the quality of the pallets, they are passed through a visual inspection system. They first pass a turntable on which two cameras are placed that take images of the front and back of the pallet in a fraction of a second. The table then rotates and the two sides are checked for damage. This automated system ensures a fast and efficient inspection of the pallets, resulting in a higher quality of the production and logistics process. It is possible to integrate this innovative solution into the brewery's existing production line, so that there is no disruption to the existing production process.
Our AI solution then analyzes the images of the pallets and applies a pre-trained classification model to compare the pallets with an ideal image of a pallet in optimal condition. The system validates that the pallets still meet the requirements and automatically identifies the pallets to be withdrawn from circulation.
This approach has several advantages:
Rapid detection and removal of damaged pallets.
Guaranteed quality of the end product.
Lower costs due to loss of end product.
Guaranteed safety during the logistics process.
Important additional challenges came to light during the proof-of-concept, such as that not all types of defects could be detected with the camera set-up used. Thanks to ACA's way of working, Duvel was able to quickly gain insight into the possibilities of computer vision and the conditions for making the system operational at a limited cost.
Computer Vision, the future for quality control environments
The proof-of-concept shows that technologies such as Computer Vision have great potential in environments where visual quality control is essential. This does not only apply to bottling facilities such as Duvel Moortgat, but also to automated warehouses and production processes. By using this technology, processing processes can be performed faster and more efficiently.
The data from the image analysis can also be used to recognize patterns and provide input to other areas of the production cycle. For example, materials - in the above case pallets - can be improved to reduce the number of defects.
☎️ Want to know whether an analytical AI model can also be applied in your company? Feel free to contact us and we are happy to help you!
Brewing Brilliance: Where AI Meets Quality Control Perfection
At ACA, we embraced the challenge to revolutionize quality control. Our AI-driven Computer Vision solution empowers Duvel Moortgat to swiftly detect and remove damaged pallets, ensuring the safety and excellence of their craft from brewery to shelf. Just as beer evolves, so does technology – shaping a future where efficiency and quality converge.

Ready to ride the wave of innovation? Just like crafting the perfect brew, our AI-powered solution at ACA adds a dash of magic to quality control. Picture this: AI cameras working their charm, spotting those sneaky damaged goods, and ensuring your precious cargo arrives safe and sound.

—

Alexander Frimout, Lead AI Innovation at ACA Group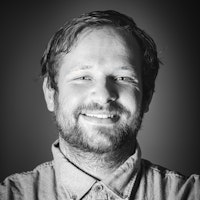 Related customer success stories
In only 10 weeks, ACA Group delivered a first version of the museum pass. Through this fast delivery, we could gather extra feedback to create even more added value.