TIPS AND EXPERIENCES FROM THE ACA TEAM
ACA AS AN EMPLOYER
08/02/2022 • Wouter Blockken
From internship to steady job at ACA Group during these digital times
Last year, I started out as an intern at ACA Group, the highlight of my college education. Later on that year, I was offered the opportunity to join the IT company on a fixed contract. In this blog post I talk about my experiences throughout this process, I offer a number of useful tips and warn against potential pitfalls.
The job interview, an intimidating beast?
Applying for an internship may feel like a daunting and uncomfortable prospect. However, it is the first necessary step as part of the process to land an internship. Which is why it is important to sit down and make a thorough selection of the kind of businesses and internships that take your interest before getting started. One of the companies that caught my eye was ACA Group.

The thing that struck me right away during the online job interview with ACA Group was the proper balance between the technical and more general questions I was asked. So come prepared and bear in mind the context of your assignment. This will make you feel more at ease answering questions. I had a good feeling coming out of the online interview, also because, alongside the more serious topics covered, there was time for a bit of a laugh. This also showed the kind of company culture that exists at ACA Group.
After a couple of weeks, they got back to me with the good news saying the internship was mine. I did not think twice and decided to embark on my adventure at ACA Group.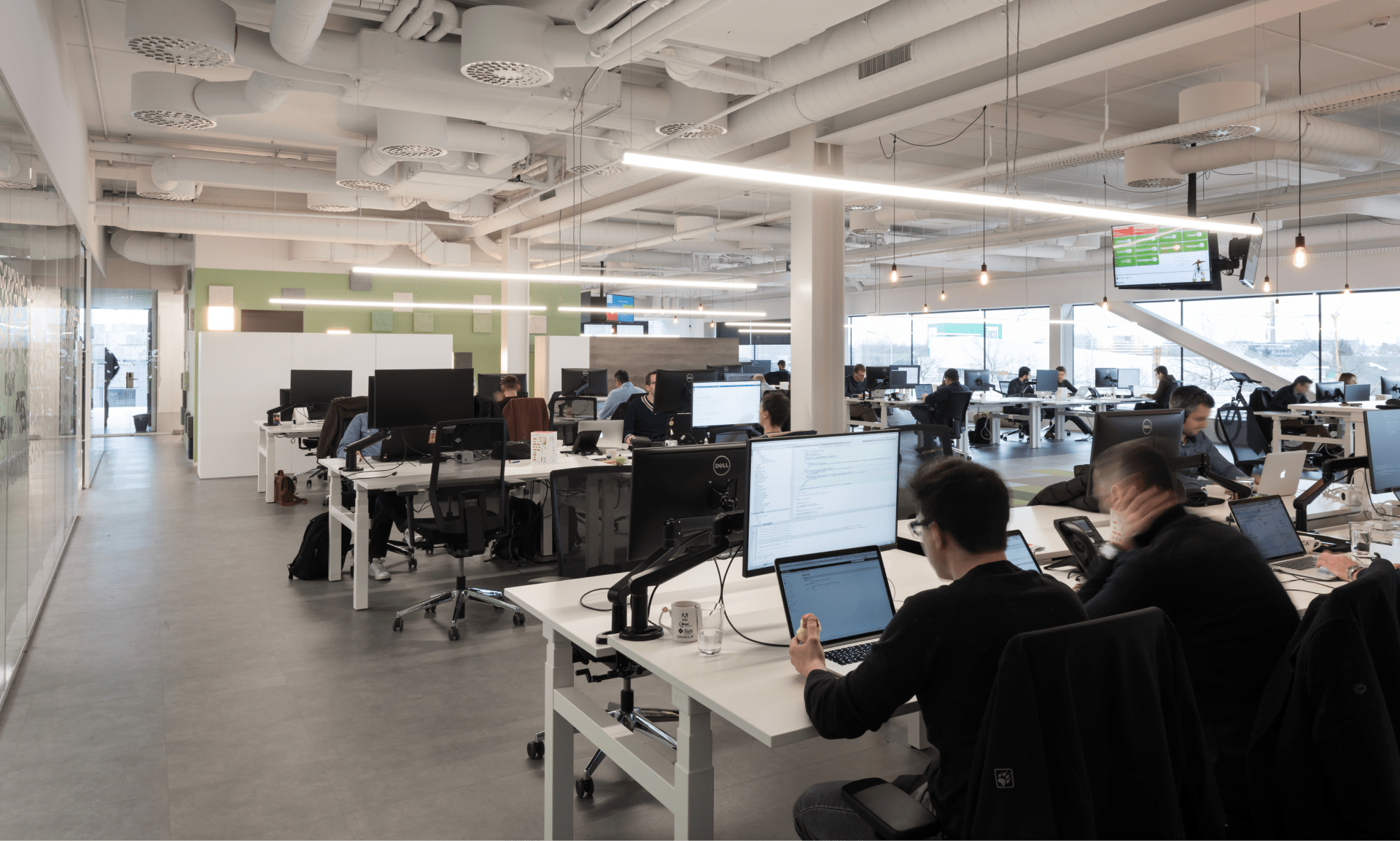 The internship unboxed
I had opted for an internship assignment outside my comfort zone. This enabled me to pick up many new skills over this short time period and take the challenge head on. Previously, I had been especially interested in back-end technologies like Java, but my internship assignment ultimately ended up being largely front-end focused (React, Jamstack). It's all about being unafraid to take the jump!
The assignment was to build an application for ACA to test job applicants' basic knowledge by having them solve technical assignments presented in the form of puzzles (not entirely dissimilar to hackthebox). By successfully completing these technical assignments, the applicants show that they have what it takes. Afterwards, they get to hand over their resume and contact details, along with the solutions they've come up with. During the job interview, the recruiter provides feedback on the results of these technical assignments. This application enables implicit information to be exchanged between ACA and the job applicant.
Internship onboarding
Soon the day came when I headed out to the office for the first time for my induction. That same morning, I was issued with a MacBook Pro with all the peripherals, and I was provided with all the information I needed to successfully accomplish my internship. The thing that struck me right away was the fact that the induction was conducted in a very homely atmosphere and everything was perfectly geared. ACA was well-prepared: everything was ready and waiting, and the induction session went without a hitch. This also made me feel I wasn't just a number and very much part of the team.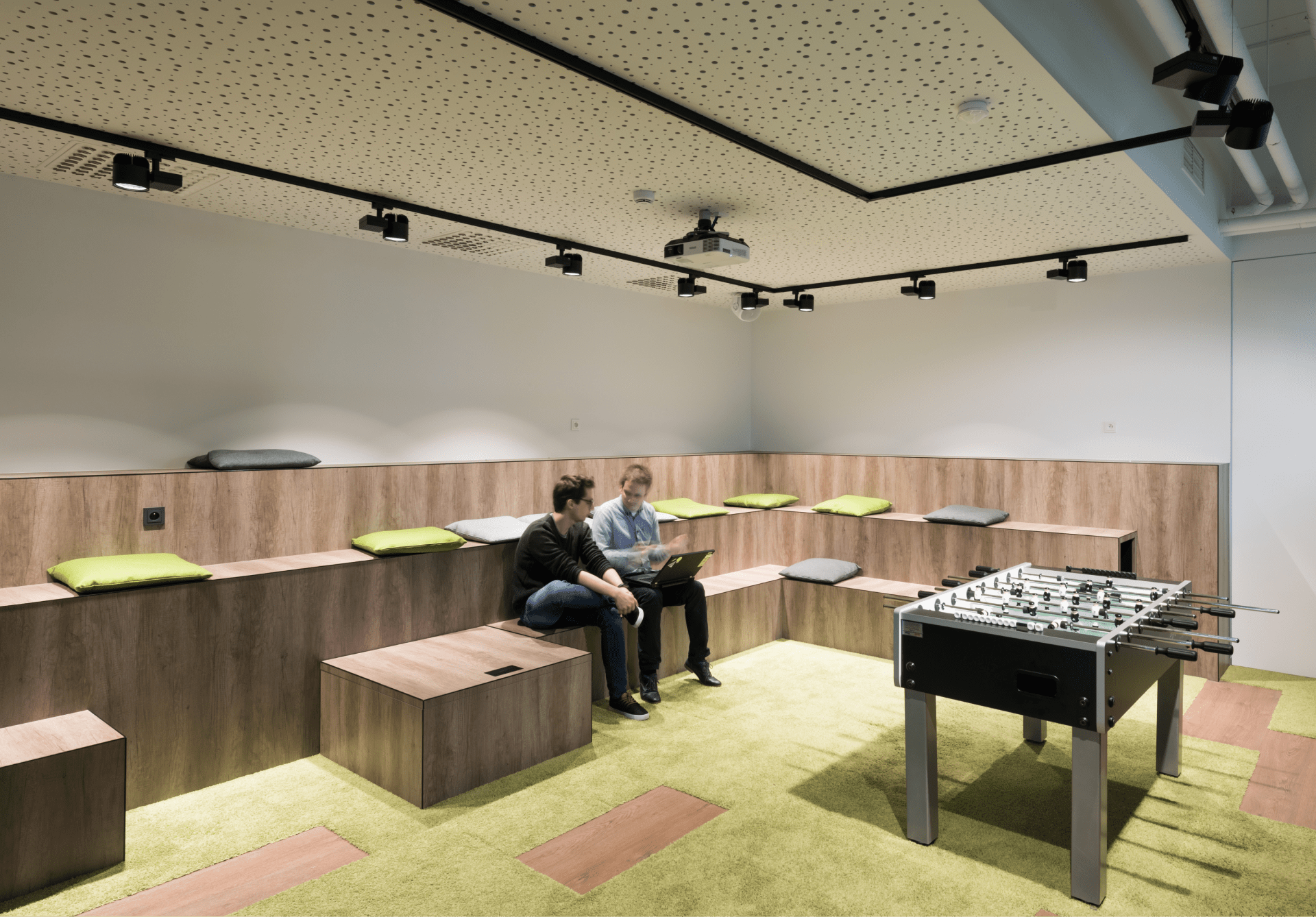 Internship takeaways
I hugely enjoyed my internship, first and foremost, as it allowed me to learn a lot of new things and pick up new skills. I was challenged every day I was there. No two days were ever the same. Personally speaking, I love this kind of variety.
I'm a creative spirit by nature. Which is why it was very pleasant to find I was getting a lot of leeway and opportunities to draw on my creative insights in developing the application. As a result, I'm proud to say I was able to give the application a personal touch. This came to the fore in the way I was allowed to flesh out the assignments and puzzles.
What's more, I was provided with all the necessary tools. I was given everything I needed during the course of the development of the app, as long as I was able to argue my case as to why I needed them.
In addition, I was able to rely on excellent support right throughout the process. I was never directed, but gently steered in a different direction or informed as and when necessary. This also allowed me to learn a lot, simply by trying things out by myself. Trial and error. The thing is to try and strike the right balance: getting stuck on a problem for two hours doesn't do anybody any good. Don't be afraid to try and figure things out by yourself, but also don't be afraid to ask questions when you need help!
Alongside the personal effort I put in, the team I joined did their utmost to make me feel welcome and appreciated in these digital times. Everybody was helpful and open to a bit of leisure and relaxation when it was called for.
Lifestyle
Something which is definitely underrated is maintaining a sane and healthy lifestyle during these digital times. Mental welfare has a direct impact on our performance, including that of interns. In times of corona, it is not always easy to be mentally on top form at all times. So be sure to use your own initiative to keep your mental well-being in shape! Speaking for myself, I got into exercising (running/walking) big time, precisely because it gave me that mental and physical boost. Obviously things are different for each and every one of us and we all have different interests, but to me sports and exercise are a big part of life as a developer. So, if you spend most of your working time sitting behind a computer screen, my advice would be to find an active hobby that works for you. You will soon notice and feel the benefit!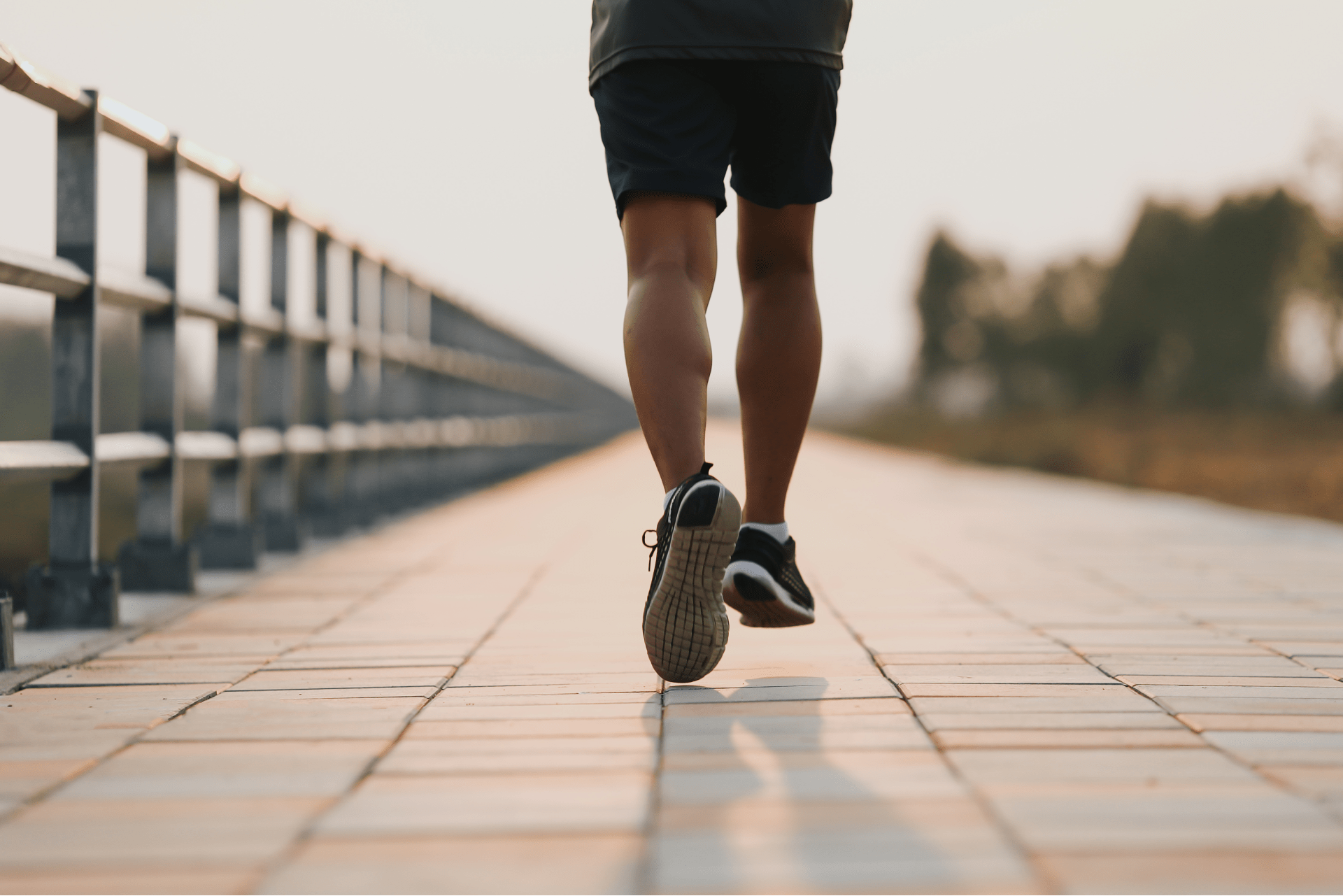 The final stretch: the final defense of your internship
The pinnacle of the internship has to be the final defense. Perhaps not the main element of your internship in terms of the grades you get in your final report, but most certainly the most important thing in terms of your future career. You will usually have a number of people calling round to hear what you have to say. People who are able to open doors for you in the form of a job. So be sure to put the time and effort needed into your final defense! Now, a final defense doesn't have to be grueling or stressful. So come in well-prepared and make sure you start on time. Relieve yourself of that stress.
My ACE internship coaches were very helpful to me in this respect. I was able to stage a dry run of what was to be my eventual presentation to the jury. Let me tell you, the difference between my dry run and my actual presentation couldn't have been greater. Which was all down to the structured feedback I received in response to my dry-run, both in terms of content and in terms of my presentation skills. Seize on this opportunity to gather feedback to fine-tune your presentation! Your grades and upcoming audience will thank you for it. ;-)
In the end, my presentation to the jury went without a hitch and I graduated with flying colors. Thankfully, the story didn't end there. I was offered a steady job at ACA. After my internship experience, starting my career at the ACA Group was a no-brainer.
My first months at ACA
After some well-deserved rest and recreation, the real work started on 16 August. This was my first real working day at ACA Group. That day I received a new induction session, again hosted by the HR team. During my first week, I was given time to get up to speed with the existing systems and environments. Whenever something wasn't quite clear, everybody was happy to answer my questions.
The second week was time to embark on my duties as part of an actual project. For this first assignment, I was given the opportunity to work on the ACA Website project, which was aimed at restyling the company website in the guise of a new technology stack in JAMstack. As this project was in keeping with my internship assignment, I was very swiftly able to get really stuck in. Yet, each day was different, with a lot of scope to learn from seasoned developers. The general project activities were a joy, and we even went out to dinner with all the team members at one point. I'm delighted to say I look back on what was a formative and positive experience.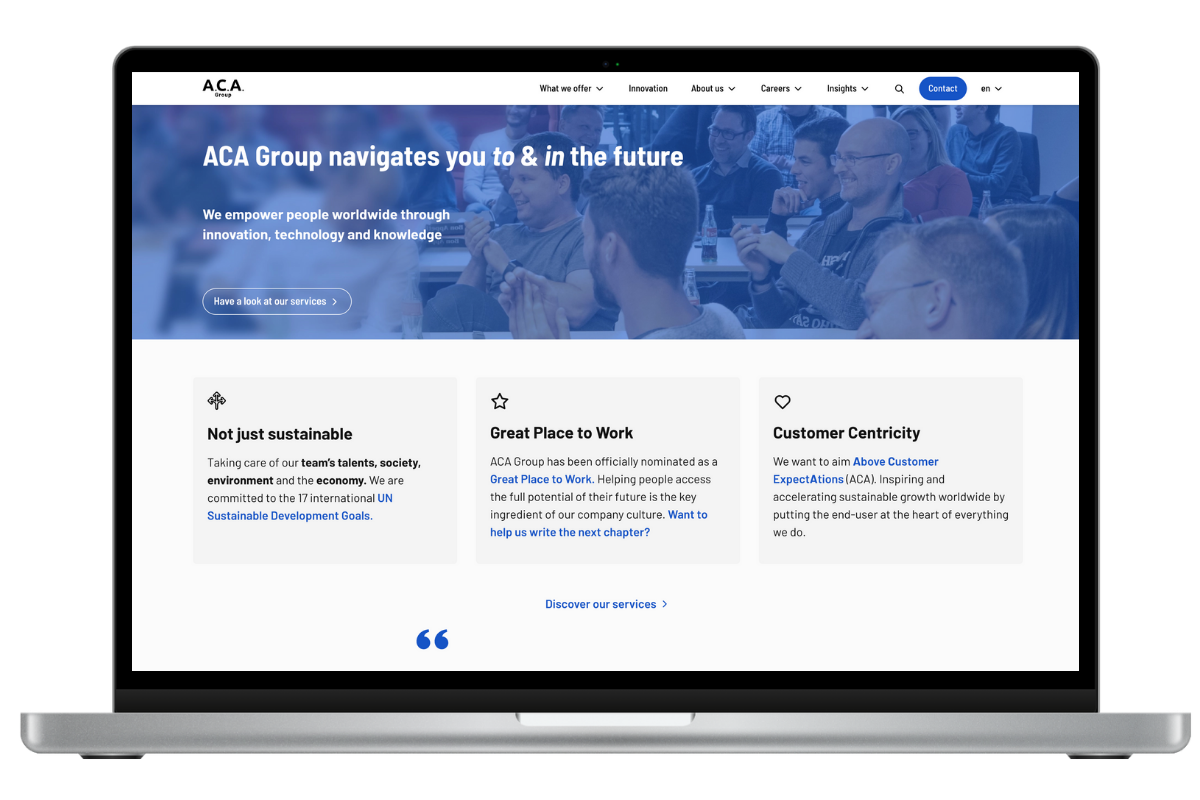 Alongside this assignment, which chiefly focused on front-end duties, I was also given the opportunity to work on IntraBLOX. This project is being built around Liferay DXP, a solution for which ACA Group is justly a Platinum Partner. IntraBLOX is an SaaS intranet platform developed in-house which makes Liferay as a product more accessible to SMEs. I learned a lot about Liferay DXP as a platform on this project. There was also plenty of variety between front-end and back-end duties, so my work was similarly varied.
After this project, I also got the opportunity to earn my first certification as a "Liferay DXP 7.3 Back-End Developer". I have to say, it was nice to be able to delve back into the books. ;-) I'm certainly keen to earn further certificates in the future. It's a great way to keep up with the latest technological innovations brought to Liferay as a platform.
Personal development & growth
One thing I noticed very early on after my first couple of weeks on the job is the fact that ACA as a company places a great emphasis on the personal development of its employees. ACA goes by the on-the-job coaching concept, which helps people give the very best they have to offer. Along with your coach, who is someone from your own team, concrete action points are defined that are designed to push your personal growth, depending on your own commitment and dedication. This also gives you constructive feedback on how you are doing as part of the project activities.
As to the future, I have every intention of giving it all I have, both in terms of the projects I get to work on and in terms of my personal development. For now, this has been a fantastic start to my adventure at ACA Group! And this certainly won't be the last you hear from me. ;-)
Interested in an internship at ACA Group? Take a look at our internship page!