DIGITAL EXPERIENCE
DIGITAL TRANSFORMATION
CONTENT & COLLABORATION
03/10/2022 • Peter Mesotten
Digital Employee Experience: what is it and why does your company need it?
Look after your employees and they will look after your customers. Most businesses have cottoned on to the fact that the ultimate customer experience greatly depends on the satisfaction of their own people. Which explains why successful organizations manage to get everybody singing off the same hymn sheet. Something for which they rely on a strong Digital Employee Experience (DEX). But exactly what are the elements that make up this digital experience? And how do you get people to feel genuinely engaged and connected?
Customer Experience (CX) has been a trendy term in the world of sales and marcom for some time now. Rather than just saying how good some of their products are, companies are realizing that it really needs to be all about the customer. A more recent phenomenon is the shift from customer to employee experience. After all, there is no way you will be able to give customers top notch service without motivated and talented staff. The challenge of attracting the right employees and keeping them satisfied can be quite strenuous in itself, especially in the recent war for talent.
Moreover, employees themselves have become more demanding from the employers they wish to work for. This is in evidence in the Great Resignation, a trend that has inspired people to switch jobs on a massive scale. Especially younger talented people know what they want and will actively seek out an employer whose values are in keeping with their own. This makes a focus on sustainability a must in the vision of any company, with employee satisfaction playing another leading role. The pandemic has not made this second challenge any easier. All of a sudden, people were working from their kitchen tables, isolated from the other members of their team. Gone were those short breaks by the coffee machine or the water cooler – relaxed chats that prove their weight in gold when it comes to creating and putting across the company culture.
Since then, in most cases the kitchen table has been upgraded to a properly equipped home office, with a lot of employees having returned to the office for at least a few days a week. However, in a many cases, a full scale return to the office the way it used to be is no longer on the cards. Especially with staff expecting greater flexibility to enable them to perform their duties, from which location and at which times they are happy to put the work in. To keep them engaged with the organization in a hybrid and digitised world, your Digital Employee Experience has become more vital than ever.
The challenges of the digital era

A beneficial digital employee experience stands or falls by the way in which you communicate as an organization. So it is hardly surprising that poor communication tops the list of the biggest frustrations people on the shop floor have. Often, communication is the main stumbling block at companies, for instance through a lack of consistency in the way messages are shared across various channels.
For people to feel involved and engaged with the organization, employees also need to be able to swiftly and easily retrieve the information they need. Searching for information not only needs to transcend the data silos, businesses also need to pursue a single source of truth which all employees can turn to.
Creating a kind of digital coffee machine break is also paramount for employees who spend a large part of their time working from home. Many businesses try hard to disseminate information, but have yet to bring their tools in line with the demands of the modern era. Often, people are still sent too many irrelevant messages, which causes them to lose interest and focus. In addition, you do not want employees having to constantly switch between apps and windows as they are being targeted with (the same) information via a multitude of channels.
Moreover, all information should be available to be consulted from mobile devices, especially in organizations that have a mix of white collar and blue collar staff. The first group are people with desk jobs, whereas the second category refers to labourers who perform manual duties at a factory, which could make it easier for them to lose touch with the company. These people too need and want to be made aware of what is going on.
An innovative Digital Employee Experience platform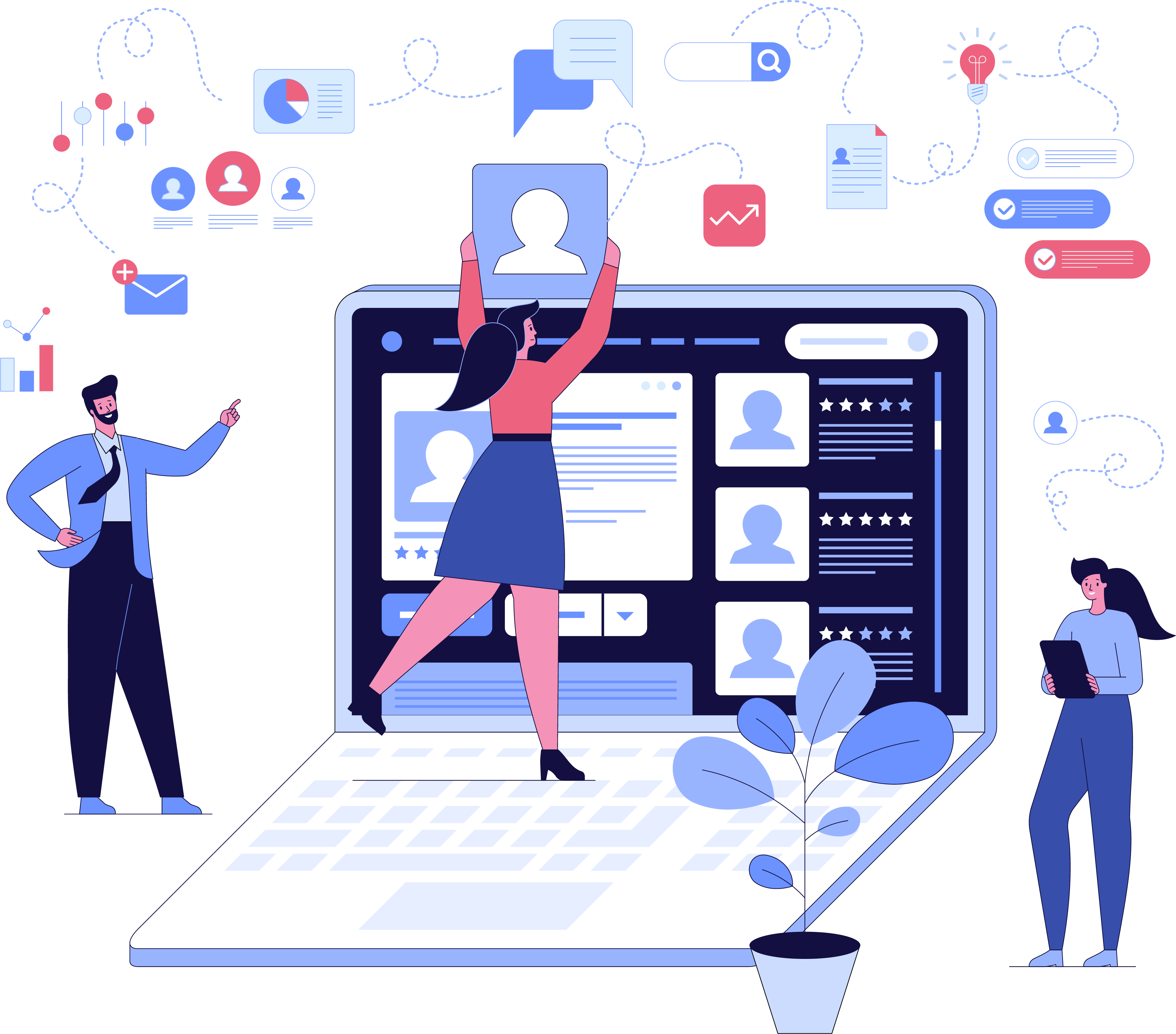 It goes without saying that a traditional Intranet, in the way a lot of organizations have been using for the past few decades, is not enough to meet the needs of a hybrid workplace. The solution is an innovative variant in the shape of a digital Employee Experience platform. This kind of platform ensures that everybody in the company is able to find and share information at one central location, from the latest news to a structured offering of guidelines and other business information which employees must be able to check with the greatest ease.
Needless to say, personalization is another important element, enabling different target groups to first and foremost find all the content that is pertinent to their own activities and context. What is more, depending on their working conditions (white-collar versus blue-collar), employees will often use different channels to get to the information they need.
Obviously, a strong platform is more than just an information channel. In a fast-growing company for instance, it may be important to enable people who work on a remote basis to connect. Which is why an Employee Experience platform also needs to have an overview of the employees, specifying their contact details, skills and interests, enabling you to quickly find the right person when you have questions. A platform like this also proves very useful to new employees who are still in the induction process and need to be able to familiarise themselves with the business.
In addition, this type of platform is able to accelerate the digital transformation of workflows in the company. In amongst other things by offering comprehensive self-service features that will enable employees to upload medical certificates or request refunds for expenses incurred all by themselves for example. Automating this type of repetitive tasks allows HR to finally get back to focusing on what really matters: the people at the company.
Discover IntraBLOX
Does an Employee Experience platform like this sound like music to your ears? Thankfully, it already exists, as ACA created IntraBLOX. An efficient tool that enables you to:
share information with the right target group,
offer employees self-service features
and establish a digital connection within your organization in the blink of an eye.
In order to truly get people to engage with the platform, IntraBLOX has been designed to include gamification. This allows you to reward employees when they read or share messages. The platform also flexibly adapts to the user's device (laptop, smartphone, tablet, etc.). Moreover IntraBLOX is very user-friendly, so HR teams and communications managers find it very easy to start using it themselves. The intuitive editor allows you to swiftly share information without having to go knocking on the IT department's door for assistance first.