Just like many people this year, we had to put away our travel plans for 2020 due to the spread of the coronavirus. Even though travelling with the whole team is an incredible experience, it's not worth risking our health over.
We're not the types to just give up, though. Our disappointment quickly grew into enthusiasm and creativity: what are some things we could still do? In this blog post, we'll talk about what we chose to do instead for the 2020 edition of the ACA team weekend!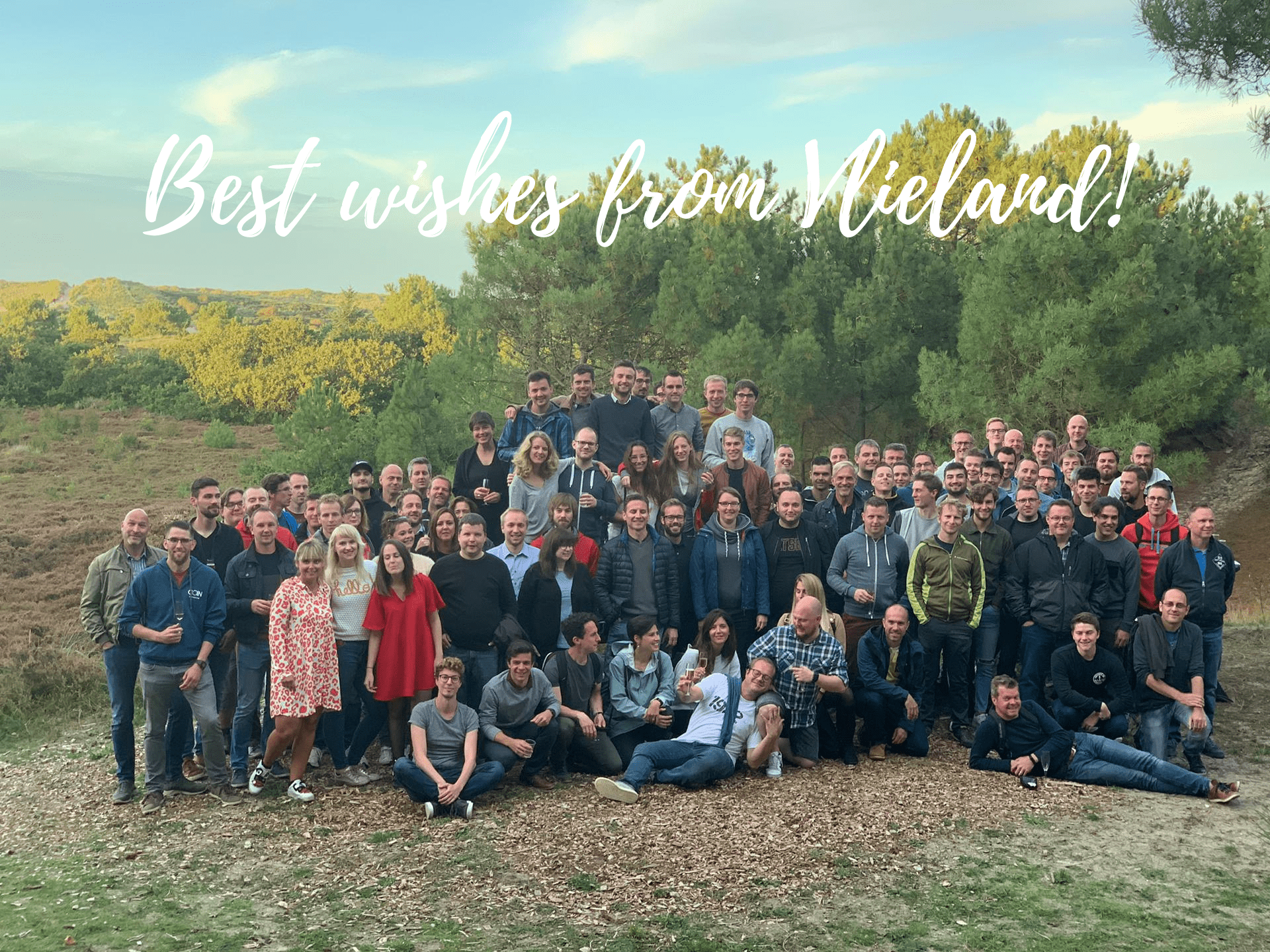 ACA's Warmest Weekend
The spread of the coronavirus has dealt devastating blows to small and larger businesses across industries. Additionally, many organizations consisting of volunteers and charities are having an even tougher time than usual. Unable to travel for this year's ACA weekend, we turned our attention to them instead and decided to band together and support those who are most in need.
During the Warmest Weekend, we hope to donate the amount of money we'd reserved for our team weekend, about 50.000 euros, to various charities", says CEO Ronny Ruyters. "Our team members collect the money by participating in various activities of their choice, which we will sponsor. They can do those activities by themselves, with their families or accompanied by people from within their social bubble. That way, we can turn this year's weekend into an enjoyable experience for everyone despite the coronavirus, and give something back to the industries and people that have suffered the most from this crisis.

—

Ronny Ruyters, CEO at ACA Group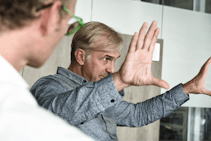 Some of the activities include cleaning up garbage in nature reserves or along the roadside, collecting products to donate to animal shelters or volunteering at a charity of choice. For the sportiest team members, there are sponsored hiking, running and biking trails. The 'Tour de ACA', a bike tour of a whopping 300 km along all three ACA offices, is an excellent example!
ACA's Warmest Weekend took place from Friday Sept 11th through Sunday Sept 13th 2020. We set up a web page and a hash tag (#acawarmsteweekend) so supporters of the cause could check out photos, videos and the collected amount live. The web page also states all of the charities that receive a donation: Pleegzorg Vlaanderen, Cavaria, Live2020, Zwerfkat in nood, Natuurpunt, Kom op tegen Kanker and MS-Liga Vlaanderen.
Day 1: an exciting start
The first day of the Warmest Weekend kicked off with tons of team members getting up early to start the work towards that 50.000 euro goal. There were lots of early morning walks, the first few garbage bags were being filled and one team member had geared up for some DIY work at a school for children with special needs. Others started with a bike ride and one team started with a brainstorm in our office in Hasselt, with the goal to collect recyclable materials and donating it to a center for animals in need.
At the end of the first day, the ACA team had already collected over 8,500 euros!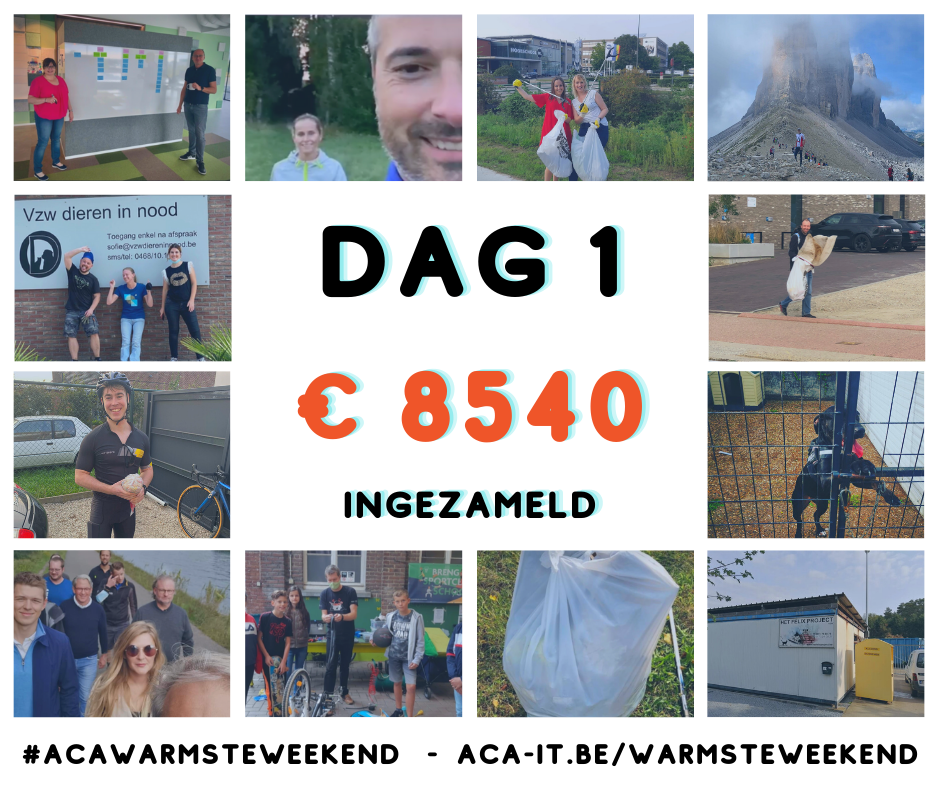 Day 2: about half way
Saturday, day 2 of our three-day weekend action. And what a day it was! With the sun shining brightly, a group of ACA team members put on their biking gear early in the morning, ready to tackle the biggest challenge of the day. The goal? Cycling over 300 kilometers through all of Flanders, while paying all three of our offices a visit! The group started off at our office in Hasselt at around 7 AM, biked to our office in Olen and then continued on to our office in Ghent. With a break at noon and some much-needed lunch, the team members biked home, racking up a total of over 12 hours of biking each.
Meanwhile, at around noon, another colleague gave a live (remote) concert with his band Slavantas. The more views the video racks up, the more ACA would donate to charity! In the end, the video was watched more than 18,000 times!
Other team members carried on what they started yesterday: cleaning up the environment, taking care of animals in shelters, or racking up some distance through running and walking. By midnight, we'd collected over 21,000 euros!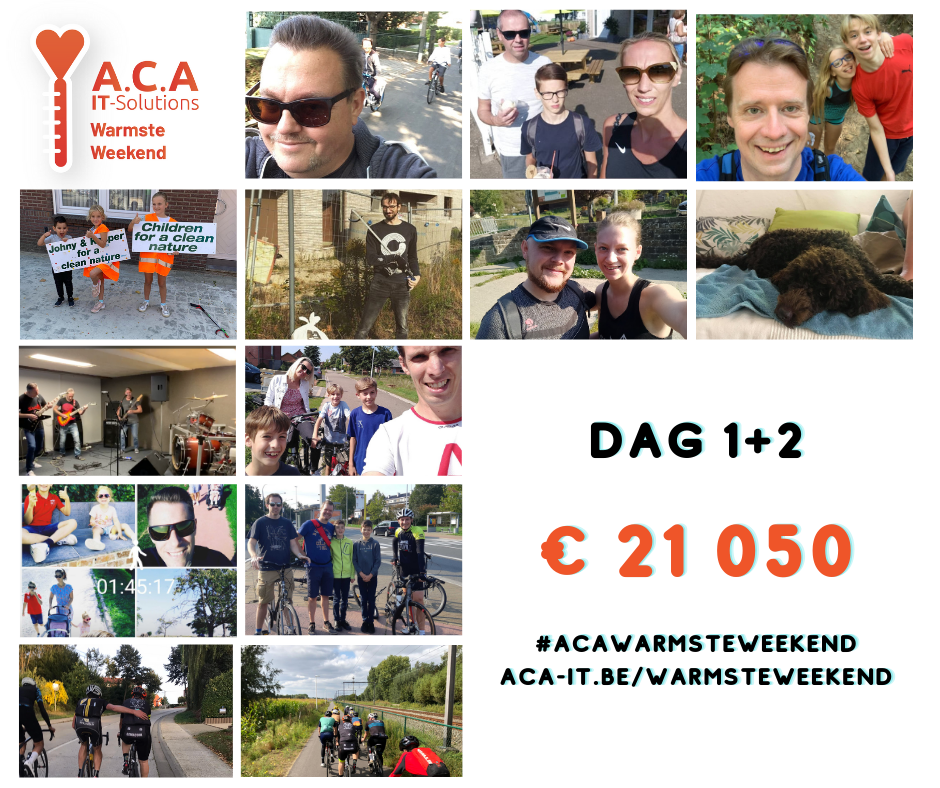 Day 3: we did it!
With the weekend coming to a close, we knew we'd have to work hard to make our 50,000 euro goal. On this last day, we walked, ran, rollerbladed, biked, collected garbage and volunteered like our lives depended on it!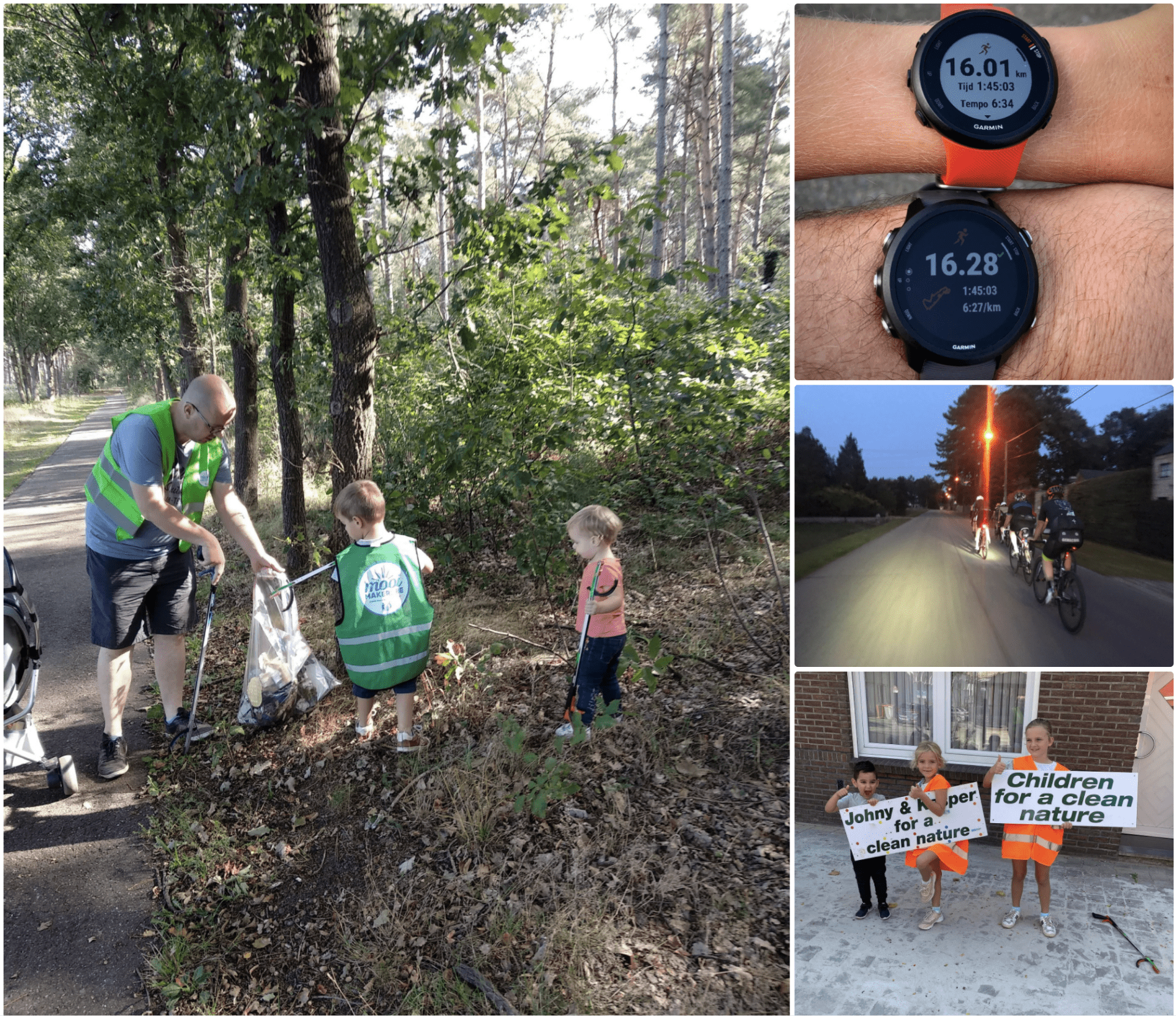 With some last registrations of activities trickling in, we managed to hit a total sum of 52,104 euros!
While we didn't get to travel as a team this year, we're absolutely stoked that we were able to come together in this difficult time and offer help to those who need it the most. Despite not travelling together, we all felt connected. And isn't that what really matters? 🙂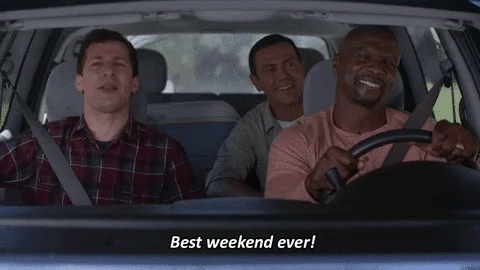 Thank you to everyone who helped us reach our goal!